When most people think about Duane Reade, the image that comes to mind is its ubiquitous presence on the streets of New York. What people might be more surprised to find out about this relatively small chain of convenience stores (just 256 locations, though it is a subsidiary of Walgreens) is how it continues to punch above its weight in the area of content marketing. For instance, even a competitive giant like CVS has a presence on social media that pales in comparison to 5W Client Duane Reade. How has this underdog of a retailer managed to have such an effective strategy?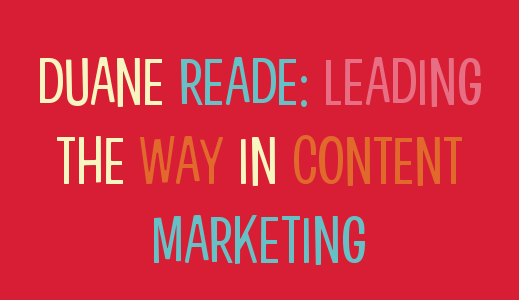 Essentially, Duane Reade has cornered the market on having an effective organic digital marketing campaign in the form of its Duane Reade VIP Bloggers. This group of influencers continually generates content to ensure that Duane Reade is receiving genuine publicity across a number of social media platforms, rather than simply relying on a high number of followers to spread information. By bringing a real-world perspective to the experience which Duane Reade is trying to sell, these content producers end up influencing their peers far more effectively than a traditional, top-down pitch that one would expect to see from a large retailer; therefore allowing Duane Reade to own critical narratives.
The Essential Communications Mix
If you want to take your brand to new heights in 2015 and beyond, it will require you to employ a multifaceted, omni-channel marketing approach; in this case the Parallel Persuasion equation.
This equation is: Brand Advocacy + Brand Voice + PR Integration + Conversation Relevance=ROI
Brand Advocacy -This can be done across multiple platforms, such as your blog, social media, videos and traditional offline marketing strategies in the form of consumer-generated media. You should test various methods and find out which provides you with the best results. For example, brands with visually appealing products can get a lot of leverage out of Instagram and Pinterest.
Brand Voice -This involves finding your unique selling proposition and showing people how you are different from the competition. For a brand to make its mark, it has to stand out in a positive way and be memorable yet regionally relevant.
PR Integration -This involves connecting your public relations efforts with your marketing and promotional efforts so that you have a unified plan. Make sure that your technology as well as PR and marketing strategies are streamlined and that all of your efforts are consistent. For example, you want to make sure that the messages you broadcast to your digitally savvy customers match those that are sent to the media and allow for a seamless interaction of each.
Effective Content Marketing / Conversation Relevance – It's now more important than ever to provide your online visitors,social community and customers overall with relevant and appealing content. This goes beyond marketing and involves providing people with content that is both informative, entertaining and actionable. This gives people a reason to visit and stay engaged to your website and social media platforms.
These more predictable marketing tactics – for instance, a publicity push prior to a new location on relying on high-profile endorsements for ads – are far less effective in swaying the everyday consumer than seeing organic content from a persuasive blogger. Content created by these Duane ReadeVIP "influencers" is not only more personal than an advertising campaign: it is also easy to share across social media in a way that ensures it will be seen by an increasingly large audience. In other words, a tweet was a far more effective way of sending a message than a press release.
Most importantly, Duane Reade was chosen by this particular set of influencers, rather than the other way around. In this way, the bloggers were able to organically take what they found most attractive about Duane Reade and translate this into a message that they knew their followers would find persuasive. Marketers have thus seen a greater return on investment, as the networks developed by their influencers can be returned to continuously for greater outreach. In sum, Duane Reade has built such an outsize influence in its market by taking advantage of a local network of influencers to spread its message with a strategic, multi-channel social, mobile and content approach.