Doctors, hospital professionals and anyone in the medical field spends a lot of time and energy learning their craft. PR pro's do the same. As soon as your practice can manage the cost, bring in someone with Public Relations skills to ease your concerns and get you doing what you do best full time. Don't worry, you will still be an intricate part of this plan. But whether you, your spouse, or a professional does the behind-the-scenes PR work, here are four ways to ensure your PR creates positive results.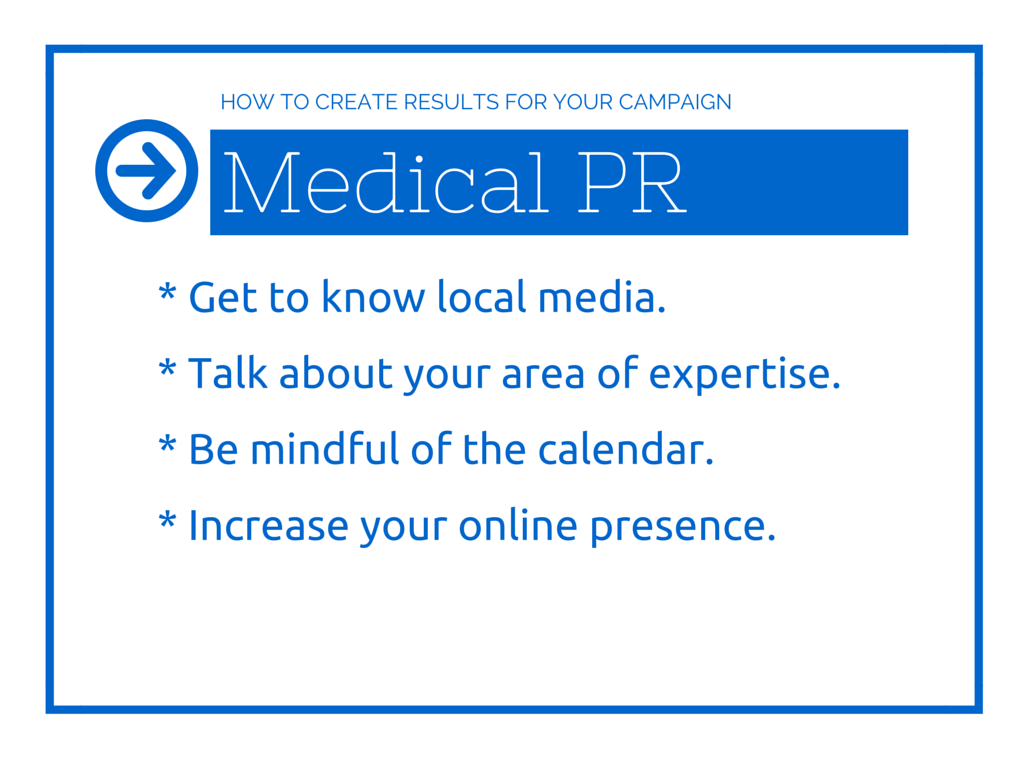 Get to know local media. If you are just starting your practice, or if you hire new doctors for your clinic, send press releases to the local newspapers, radio stations, or other news and media outlets. That accomplishes two tasks. You notified the press of what was happening, and you compiled a list of contacts. Now start thinking about what is happening in your organization that is also worth reporting. Do you host a free clinic once a month or sponsor a local team? Do you have the capacity to help people who speak a language other than English? Is your office open at unusual times? Whatever the reason, alert the media.
Talk about your area of expertise. Make yourself available to speak at local events, group meetings, or in larger companies within your city. Make up some flyers or brochures to share at all your talks that give tips as well as your office information. Get to know people while you are there. Whenever you can do this, your business and you will receive an unofficial endorsement from that organization. Small groups are often looking for someone to speak at their meetings. If you don't know where to find groups, ask patients and staff, call local aid groups, or contact churches offering to speak at their women's meeting or scout group.
Don't forget your hospital contacts in this step. Make sure they know you are available to speak, offer quotes for articles, or answer questions at media events. It will take some of your time, but these opportunities build goodwill and make you more visible to others.
Be mindful of the calendar. Use opportunities to send pertinent messages when the calendar gives you an excuse. Is it National Diabetes Month? Create a list of what to look for, tips for managing, and maybe some delicious recipes. Send it as an e-newsletter. Or do a series of weekly press releases with helpful hints and tips about that topic. Whatever the reason, make use of the opportunity to share helpful information along with your contact details. This builds your credit as a great news source with media professionals and gives the public another chance to associate your practice with positive messages.
Increase your online presence. Until you can hire a media or PR specialist, you may want to turn this over to someone who has the time to create and maintain your social media accounts and website if you have one. Even if you have time now, you are making efforts to grow your business so your time will be filled. Be mindful of a few things that must be true of anything posted: be true, be relevant, and be reasonably professional.
Follow these four steps and you'll be amazed how quickly your practice grows. And in the process, you'll hone your speaking and presentation skills too.