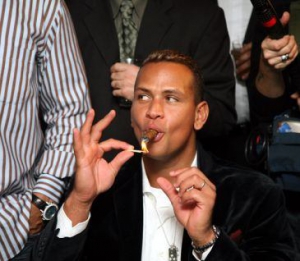 Major League Baseball might want the latest doping case to go away, but it has yet to drift from the front page. Now the flames are being fanned by other players, who might have taken the fifth when asked about A-Rod, but chose to do otherwise.
The most recent player to sound off is Tampa Bay Rays superstar, Evan Longoria. The Rays are in a dogfight for the Division lead, and the Rays 3rd baseman doesn't think A-Rod should be able to play while appealing a suspension 12 other players are already serving.
"Longoria said, because Rodriguez can seriously impact a pennant race, he should not be on the field," Ronn Torossian, CEO of 5W Public Relations, reported. "This is a razor-thin line for Major League Baseball to walk. They don't want to be seen as condoning this behavior, obviously, but they want the best possible product on the field."
Baseball's Crisis PR Problem
And A-Rod, despite almost universal belief in his guilt, has a case still under appeal. He's still technically eligible. While it may be easy to chalk this up to a case of frustration directed at a division rival, the case has received far too much press for it to be that simple.
"This is more than a rival talking smack." Torossian said, "This is a baseball PR issue that, instead of going away, continues to change, morph into something much larger than the initial problem."
Torossian said with the loss of confidence in baseball from fans coupled with frustration from players at what they view as unfair penalties, baseball has quite the building PR crisis on its hands.
While there is no doubt that MLB officials would like to push this case into the background and continue with the pennant races, it's clear that this issue will haunt them through October, even if A-Rod's appeal is rejected.
Baseball, then, is faced with a complicated PR situation. Should the league fast track the appeal and get to a decision before the playoffs, risking losing Rodriguez and the entertainment value he brings to the game? Or should the league allow this to continue, knowing the Yankees might miss the playoffs anyway?
With both the Rays and the Red Sox playing lights out, the A-Rod drama may be the best PR plug MLB has to keep people talking about the Bronx Bombers this season.
Tough call. It will be interesting to see how this one plays out.