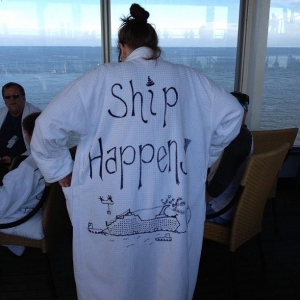 It's been a difficult few years for Carnival Cruise Line. Earlier this year, one of its ships, Triumph, got stranded at sea and eventually towed back to port by four tug boats.  Passengers were quick to share horror stories about their "poop cruise" – five days on a boat without electricity, running water, or working toilets –  a Crisis Public Relations nightmare!  Last year, Carnival's Costa Concordia ran aground off of Italy, killing 32 passengers. Its Captain "tripped and fell into a lifeboat" that seemingly rowed itself safely to shore while 4,228 passengers were left to fend for themselves.  And just a month later, the Carnival-owned Costa Allegra's engine caught fire, lost power and "was set adrift in pirate-infested waters in the Indian Ocean." (CNN)
Actions to placate passengers and assume control of the company's reputation have been ineffective. Of the Triumph, efforts were everything but triumphant.  The CEO apologized, both at a company organized press conference as well over the ship's PA system as filthy, weary passengers deboarded.  Surely at the time, this was not music to their ears.  Many of these same passengers then experienced a second stranding by Carnival when the cruise line-hired buses in which they were riding broke down somewhere between Mobile, Alabama and New Orleans. If it didn't actually happen, we'd think this was a scene out of the latest Zach Galifianakis movie. Ultimately,  traumatized passengers were offered only a refund and $500 compensation, less than cost of the cruise itself.   As for the tragedy of the Costa Concordia, last week, it was announced that the Captain will  be tried for Manslaughter and faces up to 20 years in prison.  No refund or gift certificate can ever heal those wounds, especially for the families of those who died.
As each of these disasters has unfolded, we communications professionals have been awaiting  some definitive course of action from Carnival that will help it right its literal and proverbial ship. So, in the wake of all of these unfortunate circumstances, and wishy-washy responses, what's been their most recent step taken towards rectifying matters and regaining control?  This week, they fired their advertising agency.  Well, they kinda fired them because Carnival didn't even take the definitive step of immediate termination. They called for an agency review but did not invite their current agency's participation.  This is troubling because it's more of the same wishy-washy that's not helped Carnival yet.
More troubling, however, is this question:  Do Carnival executives honestly believe that new advertising is their silver bullet?  That paid media, whether clever or contrite, will generate a resurgence in business and fill Lido decks to capacity like some bygone era?  In an age when people's trust in advertising is rapidly declining and the public craves authenticity from the brands they support, it seems naïve to believe winning  back cruisers is in the slick visual or digital campaign.
Instead, many a PR pro would argue that this is the time for Carnival to activate an aggressive media relations campaign — one that concedes difficult truths about how the Company has failed (beyond the obvious sinkings, fires, strandings and deaths), reveals detailed plans for improvement, includes a timeline of activation and accountability, and shares other strategies highlighting how the brand intends to earn back the public's trust beyond firesaled prices (no pun intended).
The advertising industry as well seems to be drinking some crazy Kool-Aid.  Its trades are pointing out that Carnival only spent $22 million on advertising in 2012, down from $38 million in 2011. And, they're indicating that Carnival's soon-to-be fired ad agency is taking the hit for the lack of spending.  But as someone who deals in EARNED media rather than paid media, I'm astonished by the budget that has been devoted to a failed campaign and the insinuation that "if only they'd spent more, Carnival would be okay!"
First of all, I couldn't spend $22 million on a media relations campaign if I tried. Secondly,  no amount of millions can dupe a savvy public into believing that a company's infrastructure problems – staffing and equipment maintenance, in the instances above –  are solved upon the launch and propagation of cool ad spots and viral campaigns that completely ignore the problems that caused them.
Until the fundamental issues of quality control and personnel are fully addressed within Carnival, no creative image spots can generate the resurgence of business that can only, slowly rebuild from ongoing demonstrations of accountability and authenticity — values best communicated through earned media rather than pay for plays.