Not everyone realizes there is a big difference between advertising and public relations. That's because they see it all as information found in media – social, print, television, etc. – about a person or brand. Both fall under the "marketing" umbrella as services. The two share that in common. But the difference is vast in many ways.
The obvious difference found between them – advertising is controlled media.  Companies create a campaign and the materials. Then they pay the media outlets to share what they created. PR, on the other hand, creates a campaign sharing information about a company or individual and gives the information to media sources such as journalists, bloggers, and influencers in the field. Then those people decide what they will do with the information.
PR is also much cheaper than advertising – a fraction of the cost.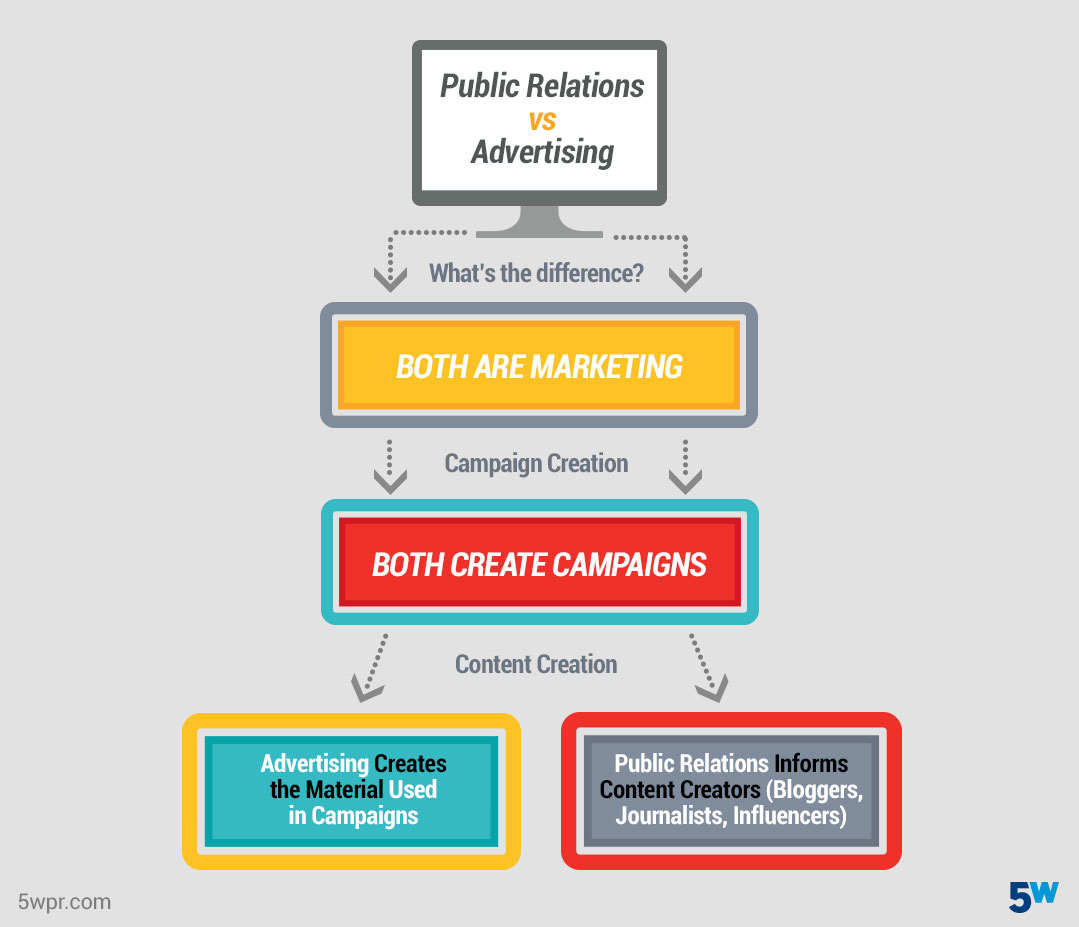 According to Ronn Torossian of 5WPR in his book, "For Immediate Release: Shape Minds, Build Brands, and Deliver Results with Game-Changing Public Relations," 
"IBIS World, a media research firm, says PR spending in 2010 was $9.73 billion and forecasts it will increase to $12.82 billion by 2015. The growth is in part due to PR's ability to participate in a more nimble and flexible way with the new methods by which people consume media, including social media. That sounds promising until you compare it with ad spending, which even after annual declines in recent years is about $210.5 billion a year in the U.S. The PR business is a tiny piece of the pie compared to advertising; there's no reason why it can't continue to grow and take advantage of its agility in the marketplace."
inPowered commissioned a Nielsen study in 2014 regarding the impact of content on the decision-making process of the consumer and it concluded PR is approximately 90% more effective than advertising. "On average, expert content lifted familiarity 88% more than branded [advertising] content."
According to Roper Public Affairs, 80% of the decision-makers for businesses purchasing products show a preference for information presented in a series of articles (PR) as opposed to advertising.
The Holmes 2015 World Report shows progress as for the first time, the Top 250 PR firms in the world cracked the $10 billion barrier in 2014 fee revenues, reporting $10.4 billion compared to $9.7 billion in 2013 – up 7%. 2013 had seen an 11% increase, but the slower rate for 2014 is explained by global market volatility with European firms dragging down the average.
The Holmes Report also shows independent firms on the rise while publicly held firms remained flat.
"The growth of independent firms is impressive and beggars the question of whether we'll see their value overtake publicly held firms," said ICCO chief executive Francis Ingham. "It is intriguing to see that publicly-held firms account for around 42% of the overall market, down from 45% last year – this is perhaps a reflection of the fact that they may have been slightly hamstrung by profit targets to invest as freely in those all-important 'non-traditional services' as the independents."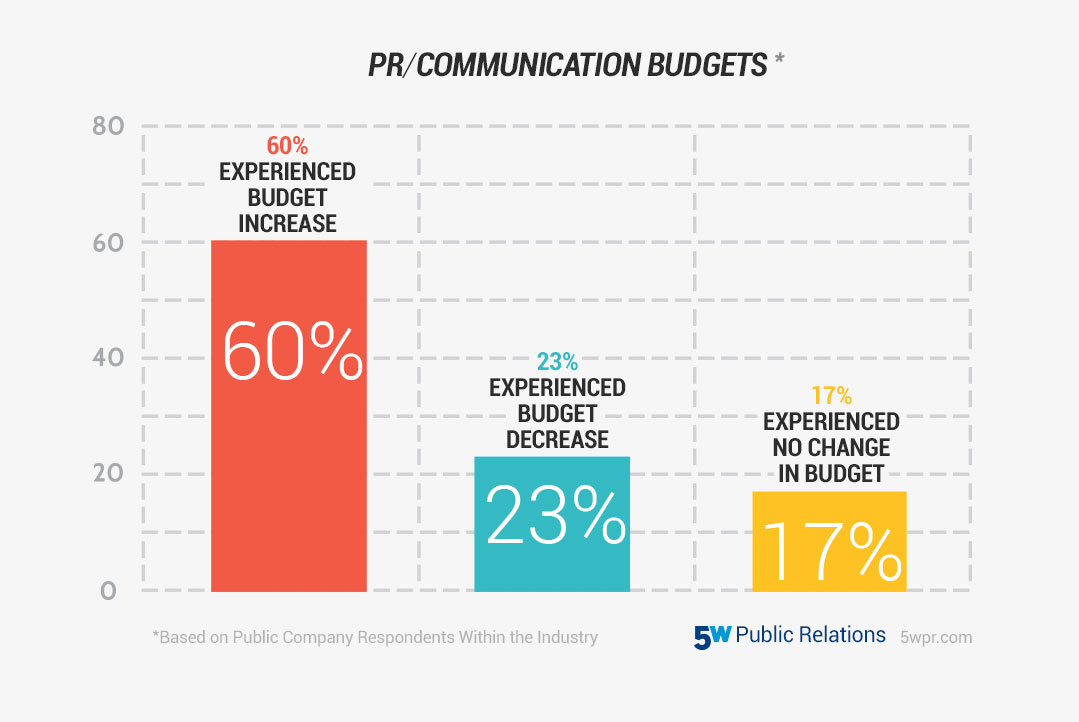 Key findings in The USC Annenberg School for Communication and Journalism releases 2014 Public Relations Generally Accepted Practices (GAP VIII) Study include budget increases are happening across the industry reported at PRSA.
"In 2014 40% of public company respondents expected their PR/Communication budgets to increase over 2013 levels, while 25% expected no change and 35% expected decreases. In 2013, 60% experienced budget increases over 2012, while 17% experienced no change and 23% experienced decreases."
They also found that social media efforts far surpass legacy media efforts. Showing nearly 20% combined efforts with various online platforms vs. less than 5% for print newspapers. Those represent the top five most frequent choices.
As reported on Statista, advertising spending is expected to rise, staying steady with most forms such as television. The only form expected to rise is in digital and mobile advertising, rising from 19% to 29% between 2011 and 2017.
If you need more convincing about the power of PR vs. Advertising, The Guardian reported about research done by YouGov for Deloitte. The report showed that more than half of the people responding to their poll viewed television ads as what they remember best. But 86% of those same respondents say they fast-forward through advertisements when they watch recorded programming.
Perhaps the old saying still holds true, advertising is what you pay for, and publicity is what you pray for. But when you get expert help, you have a much better chance of getting a yes to your prayers.