PR vs. Advertising: What's the difference?

03.25.22
When most people hear about PR and advertising, they assume it's roughly the same thing.
The reality, in fact, is that there's a big difference between them.
The mistaken belief might arise from the fact that both of them have to do with the information found about a person or brand in the media, making both of them marketing. However, that's where the similarity ends.
The starkest difference between them is that advertising is controlled media.
The company creates a campaign and the materials for it before paying the media to share the campaign.
PR is much less controlled, as it creates a campaign and shares the information with media sources.
These often include journalists, bloggers and influencers in the same field. The recipient decides what to do with the information the PR firm has handed to them.
PR is also much cheaper than advertising – a fraction of the cost.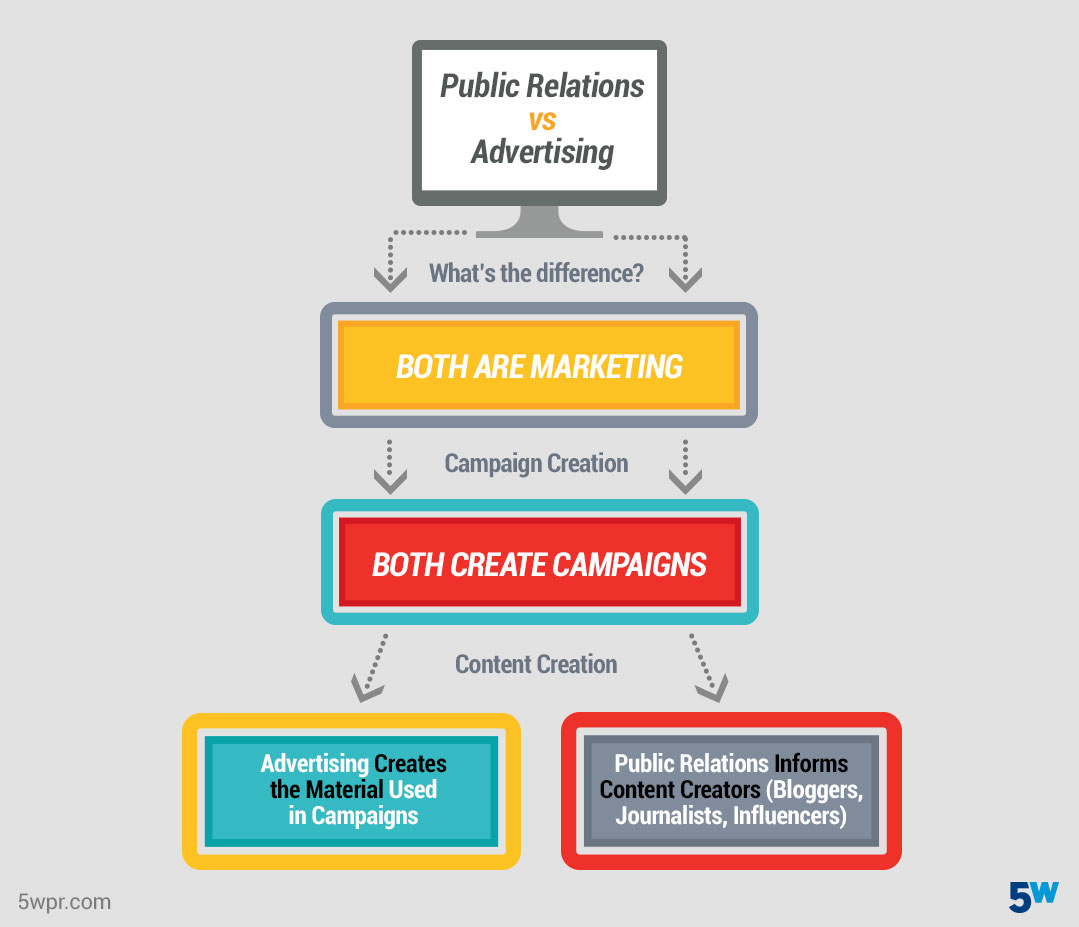 PR is a fraction of the cost of advertising
Ronn Torossian of 5WPR shares insights into the changing world of PR in his book "For Immediate Release: Shape Minds, Build Brands, and Deliver Results with Game-Changing Public Relations,"
"IBIS World, a media research firm, says PR spending in 2010 was $9.73 billion and forecasts it will increase to $12.82 billion by 2015. The growth is in part due to PR's ability to participate in a more nimble and flexible way with the new methods by which people consume media, including social media. That sounds promising until you compare it with ad spending, which even after annual declines in recent years is about $210.5 billion a year in the U.S. The PR business is a tiny piece of the pie compared to advertising; there's no reason why it can't continue to grow and take advantage of its agility in the marketplace."
A Nielsen study commissioned by inPowered regarding the importance of content in the decision-making process of the consumer concluded that PR is roughly 90% more effective than advertising. Expert content increased familiarity 88% more than branded content.
Poper Public Fairs reports that 80% of the decision-makers in businesses prefer articles presented in a series of articles, as opposed to advertising.
Indicating the growth of the PR industry, the Holmes World Report showed that the Top 250 PR firms had made more than $10 billion in fee revenues for the first time, collecting a total of $10.4 billion. That number has grown considerably since then, approaching the $19.3 billion in 2019.
To add to that, the Holmes Report also shows that independent firms are on the rise, while publicly held firms have experienced far less growth.
"The growth of independent firms is impressive and beggars the question of whether we'll see their value overtake publicly held firms," said ICCO chief executive Francis Ingham. "It is intriguing to see that publicly-held firms account for around 42% of the overall market, down from 45% last year – this is perhaps a reflection of the fact that they may have been slightly hamstrung by profit targets to invest as freely in those all-important 'non-traditional services' as the independents."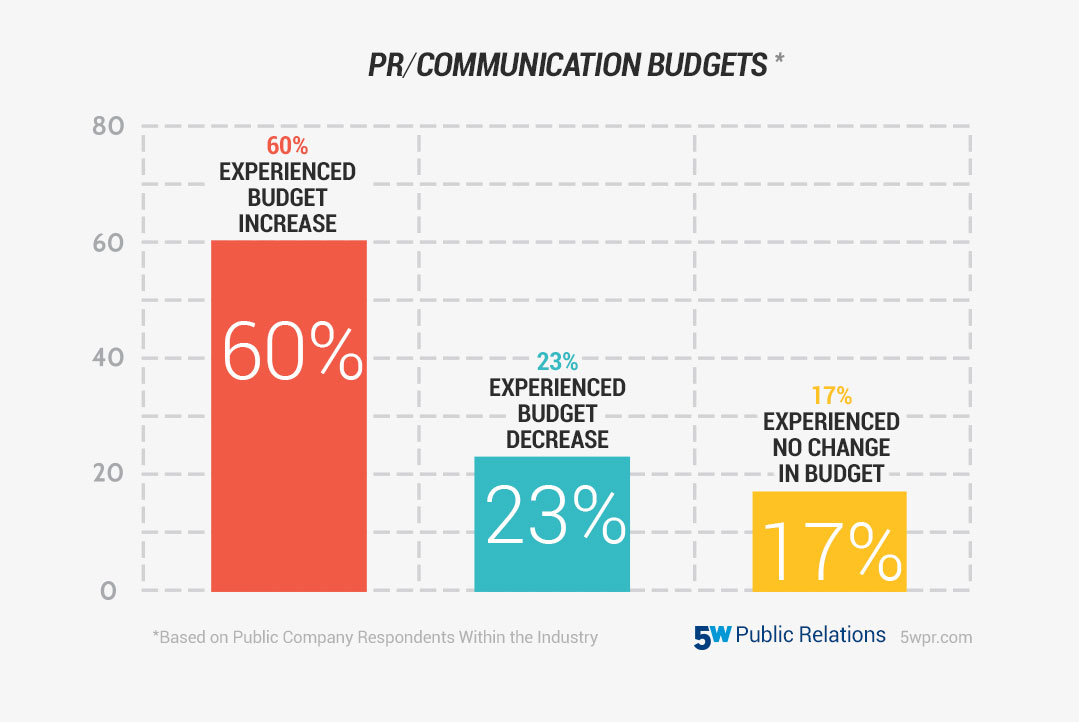 Findings by The USC Annenberg School for Communication indicate that budget increases are happening nationwide and across the industry.
They also found that social media has a much higher ROI than legacy media, up to 15% greater at times.
Statista reports that mobile advertising, which has already shown significant growth, is expected to rise even further., surpassing $250 billion in 2019. Other forms of advertising don't indicate that they'll experience such a sharp rise.
The Guardian reported on research done by YouGov and Deloitte, which again highlighted the power of PR vs. Advertising. According to the report, over half the people responding to the poll said they remember televisions ads best. However, 86% of the same respondents said they fast-forward through them when they are watching recorded programming.
Even as the media landscape changes unrecognizably, there's still truth to the old saying that advertising is what you pay for while publicity is what you pray for. One way to ensure answered prayers is to get expert help.
Public Relations vs. Advertising
While both advertising and public relations can bring positive awareness to an organization, by definition, public relations is a strategic communication process that builds mutually beneficial relationships between organizations and the public.
PR exists to serve an organization and its stakeholders in a mutually beneficial way. The goal of PR is to develop and maintain favorable relationships with an organization's stakeholders, who can be anything from customers and investors to employees, suppliers, community members or the media.
There are many ways for organizations to interact with their audiences; PR is just one of them. In practice, PR can include any number of activities, including:
Media relations (communicating with journalists and other members of the media)
Crisis management (anticipating and minimizing negative publicity)
Marketing communications (promotions, advertising, sales presentations)
Social media monitoring (listening to online conversations about your brand)
Issues management (responding to political controversies or activist campaigns)
Internal communications (communicating with employees)
The Key to Influencer Marketing in the Beauty Industry is Authenticity
Beauty influencer marketing has transformed the beauty industry by changing how brands engage with...
Learn More
Paid or Earned Influencer Marketing, Which is Best for Your Brand
In recent years, social media influencer marketing has become an increasingly popular way for...
Learn More
Related Influencer Marketing