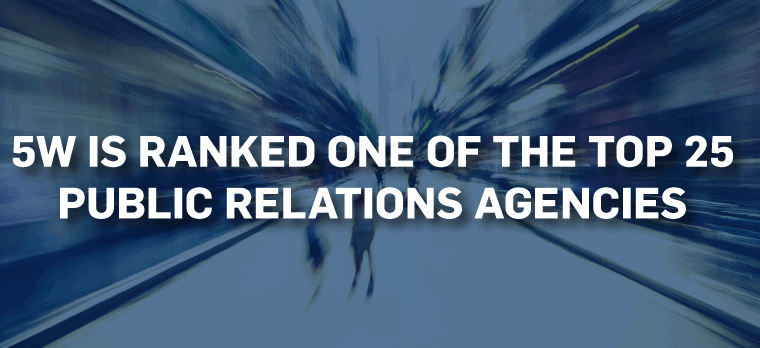 Top NY PR firm 5WPR is Growing
PR agencies celebrate success and solve crises. Ronn Torossian started 5WPR because he knew how to bring his clients success – and loved every moment of making that happen.5WPR is growing again. The versatile NYC public relations firm CEO Ronn Torossian founded in 2003 continues to find success.
Honored by Inc. Magazine as one of the fastest growing companies in the United States in both 2007 and 2008, current numbers prove this trend has continued. In 2009 5WPR was ranked one of the top 15 PR agencies in the entire nation. In 2012 5W Public Relations grew 14%
WHO WE REPRESENT
5WPR represents a wide variety of clients across many fields including business, government, health, fashion, B2B and public affairs. If you want to work here you will need to know how to work with targeted media and how to connect with fans in each represented market segment.
WHAT WE'RE ABOUT
Our tagline is "Real. Resourceful. Results." If you want to work with 5WPR, you need to walk in the door prepared to explain what that means to you, and to apply what that means to us. At 5WPR we work hard and we deliver exceptional results.
WHAT WE ARE LOOKING FOR
Successful PR is not just about marketing savvy and writing talent. You need these attributes, sure, but to work here you better have that "it" factor. Presentation, determination and the ability to switch gears in an instant. Attributes that are no longer luxuries in our RIGHT NOW world. What else are we looking for?
· New media versatility – understand social media, how it works and
what approach works best for each platform.
· Traditional media ideals – some things never change, human nature,
power of story, successful persuasive techniques.
WHERE WE GO FROM HERE

Our clients want to see how successful we can be for them. That means each client gets only our best, no matter what. As we grow and add more clients and more PR agents in our NYC and LA offices, our clients' expectations will not change. They hire 5WPR expecting results, no matter who has their account. If you are interested in a marketing career, come help us deliver those results. If not …