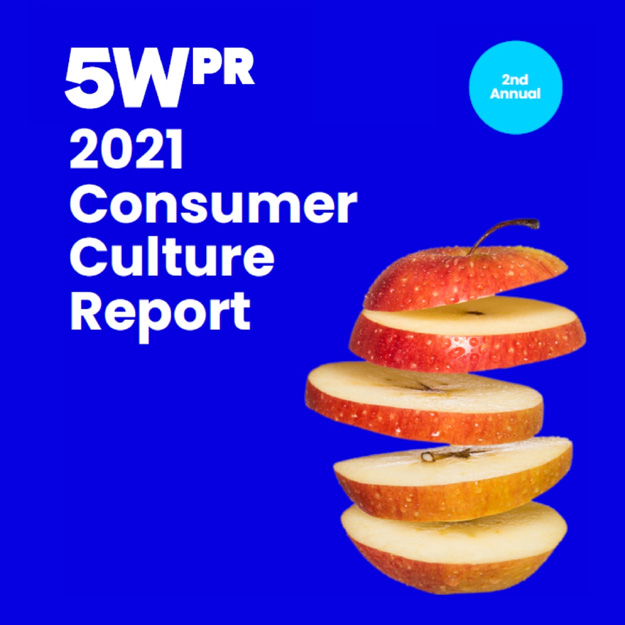 5WPRs's second annual consumer culture report looks at consumer spending culture and the biggest influences behind buying behaviors. Insights help brands tap into consumer's wants, understand patterns, concentrate resources on trending areas, and connect brands with appropriate target audiences. This year's areas of research include pandemic spending habits, e-commerce, impulse behaviors, social media use and influencers, brand loyalty, and the increasingly large role Gen Z is playing in consumer culture.
The pandemic has proven to be the greatest influence on consumer behaviors, and the report reveals just how much change has taken place. The average consumer is now spending more than half an hour longer per day online shopping than they did before the outbreak of Covid-19. Gen-Z proves to be the most susceptible to e-commerce with 45% of the generation increasing their time online shopping up to four hours a day, followed closely by 44% of Millennials.
On the digital side, the report looks at social media and the platforms currently holding the greatest influence over consumers. When it comes to spending, 46% of respondents across all age groups have purchased a product they saw on social media, a 10% increase from 2020, and almost a fifth of all Instagram users have purchased a product directly from a brand's profile. However, on average, consumer's impulse purchases have dropped from 50% to 38% in the last year, illustrating the need for a strategic approach when advertising on social platforms.
This year's research also shines a spotlight on Gen Z consumers, who boast a combined spending power of $150 billion. Almost 80% of Gen Z shoppers somewhat or strongly agree that online shopping allows them to buy products from a small or new company they may not find in stores, however, half of them still prefer finding new products in-store to finding them online. While e-commerce reigns supreme another year, these findings suggest hope for retail on the other side of the pandemic.
5WPR's 2021 Consumer Culture Report was conducted by Censuswide, with 2,000 respondents aged 16+ in the USA between 14.09.20-18.09.20. The survey was conducted from a nationally representative of American adults. Censuswide abides by and employs members of the Market Research Society which is based on the ESOMAR principles.