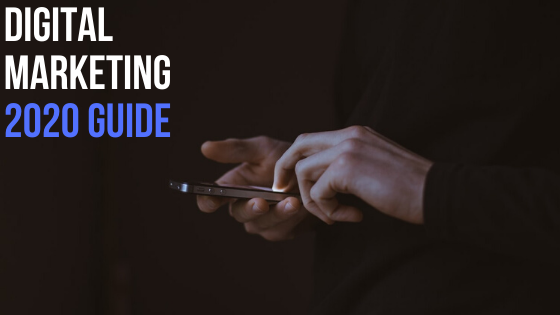 Digital Marketing [2020 Guide]
2019 is history and a lot of lessons were probably learned.  In looking ahead, one of the areas to pay close attention to is the health of the company's digital marketing for 2020.  With proper attention in the right areas and some meaningful tweaks, the potential for growth looks promising.
ANNUAL CHECK UP
Now's the perfect time for an annual checkup.  The first place to start is an honest assessment of how well the entire company is in tune with marketing's digital marketing strategy.  Do sales and senior leadership embrace and support marketing's vision and plans?
If not, might a retreat or workshop to bring out differences or concerns result in a better understanding and support?  This is where involvement by a credible and respected third-party can carry a lot of influence.
What kind of ROI is digital marketing bringing to the company compared to companies of similar size and product line?  If the proper tools aren't available, serious consideration should be given to making that investment.
VIDEO IS KING
Video is growing in popularity as a persuasive tool in communicating strong and successful messages to customers.  How large a role does it play in the company's digital marketing strategy? How much of the company's website utilizes video? Survey data from Information World showing how video can not only shorten the sales cycle, but also instill trust quicker than other content.
Many marketers look at videos from one perspective but there are numerous ways to leverage it.  While videos largely focus on answering consumer questions about a company's products or services, there are many other ways to utilize it as well. 
One very powerful use of video is sharing a customer issue or problem and showing how the company successfully addressed it.  Yet another shows company employees introducing themselves and explaining things. This also helps acquaint customers with actual on-the-line workers they may actually share time face-to-face with.
WEBSITE
Now is also a good time for companies to look at the mix of text and video content.  This is because of the increasing popularity and credibility of video, where thought should be given to displaying more video in 2020.  Testimonials are still important so consider using audio from customers over video of the product or service they're talking about. The combination can be extremely powerful.
CONTENT
Content is still a key player but there's lots of room to add various features.  According to IMPACT, a HubSpot 2017 and 2018 Agency Partner of the Year, some things include openly discussing and tackling seemingly delicate matters like pricing, comparisons and even problems.  The company suggests that today's consumer does a lot of research and raising these matters openly not only helps to build trust, but also preempts a competitor from doing the same.
In many companies, staff wear several hats.  However, for content to be effective, it's also recommended that companies have a dedicated content manager who can devote all of his/her time to the task.  That manager should also have a good understanding of video in order to work with whoever is producing it and can then work to maintain that blend of text and video content on the company website.