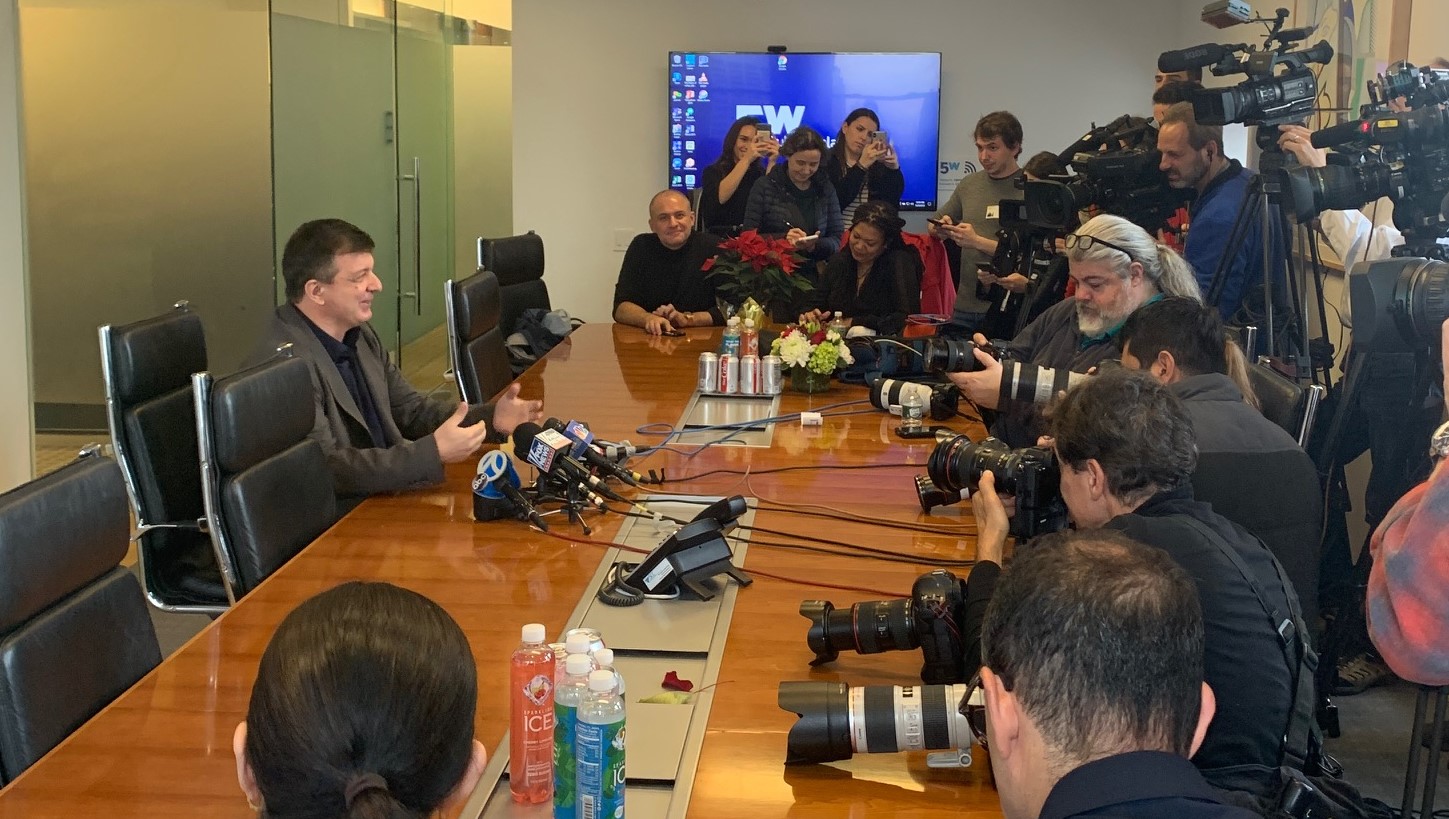 Art Basel Banana Eater, David Datuna Hires 5WPR
At this year's Art Basel in Miami, FL, performance artist, David Datuna ate a piece of art by Maurizio Cattelan that was essentially a banana duct-taped to the wall. If that isn't unbelievable enough, the two previous pieces of artwork (ie. bananas), had already sold for a reported $120,000 each. The stunt, which was done in a large crowd, was shared widely on social media and consequently the internet, which led it to become one of the most talked about stories of the weekend. #BaselBanana
Enter the mainstream media. This story was so big that by Monday morning, Datuna had hired 5W to host a press conference and we happily welcomed almost every single major news outlet in New York City to our boardroom. The people had questions and wanted answers.
Why did you do it? Did you get in trouble? What did it taste like?
Datuna adamantly denied any wrongdoing stating over and over that he is a performance artist and this was his performance. He added that his idea was for an artist to eat the concept of another artist's work. Sounding just the right amount existential and eloquent, the media ate it up. (ba-dum-ch!)
Love it or hate it, Datuna's "performance" was one of the most brilliant PR stunts of 2019. From a PR perspective it had all the makings of a viral story. Let's break it down:
Authenticity
The video that surfaced was shot on an iPhone, in real time. There was no teasing the performance or announcement that it would happen. The authentic nature of the stunt was what made people feel invested in the outcome, and care about the story at all. 
Surprise
At the press conference Datuna divulged that the stunt was in fact pre-meditated, but no one knew that at the time. The key here is catching people off guard. 
Shock Value
Perhaps the most difficult piece of the puzzle, is concocting a situation that leaved people feeling bewildered, and more importantly, hungry for more information. Creating a viral story is not easy, and takes the right mix of planning, timing and good old-fashioned luck.
Multimedia
The most important component of all. He had the video. Whether it was a surprise, or not, no story is going to go viral without the media to go along with it. Case in point, following the press conference, the most requested item was the video of him eating the banana at Basel and guess what? We had it!
For more information on PR stunts, press conferences, or the banana eater email info@5wpr.com.
More 5W PR Insights:
No related posts.