What is a Press Release and Why is It Important?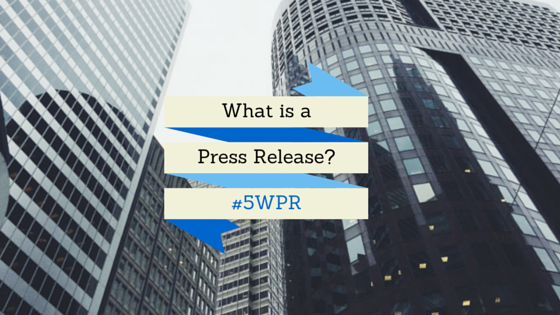 07.18.21
Communication has been dramatically changed by social media. It was because of these platforms that great pop culture moments have been created, and even political revolutions have started by people getting together on them.
With companies still trying to figure out the best way to utilize the power of social media platforms, one of the most well-known marketing tools has transformed its original purpose.
The press release has become more important than ever when promoting a company and its products or services. Although press releases themselves have greatly changed through the years, especially when companies realized the importance of digital marketing, they're still incredibly useful and beneficial.
What is a Press Release?
A press release is a short news story written by a PR professional that is sent to targeted members of the media. It contains all the important information a journalist needs to produce their own story.

A press release can be used to announce a new product or a new service, as it's easy to distribute it to all major search engines and social media platforms, as well as journalists and news outlets, as this way the company is able to reach a larger number of people.
Additionally, because it's easy to create, publish, and distribute the press release, companies have an easy time sending out multiple press releases when necessary.
Before the internet, press releases used to only get sent to journalists, and if they were considered to be subpar by the newspaper, they would never get published. These days, even if a journalist doesn't feel that the press release would be beneficial to the media outlet, it can still be published and drive more interest from the public on social media.
These days, instead of simply being used to announce new products or services, press releases are used as a tool to improve search engine optimization, which can help companies connect with investors, employees, customers, and other interest target demographics that would be interested in the business or its solutions.
Digital press releases give the publisher the ability to add many other features, such as adding hyperlinks to other webpages from the company right in the press release. Additionally, businesses tend to use very specific keywords when talking about their products, and adding those keywords that relate to the company means the press release can be even more optimized for search engine results pages.
Furthermore, press releases are used as a tool for direct communication, where companies are easily able to deliver messages to the public and their target audience without going through other channels, and they're also seen as a permanent piece of a company's public record. This means that people are able to locate it and read it again in the future because it's so easily accessible.
Finally, another great benefit of press releases these days is their ability to potentially go viral, especially since they're easily accessible via any device that can connect to the internet, which means they're able to generate a lot of buzz.
Since a press release can offer any business many benefits and be a powerful tool for marketing, it is important for public relations professionals to know how to use them strategically. A condensed article that highlights something newsworthy or interesting about a company or organization is what makes up a press release. It is written in a journalistic style.
Although press releases are effective, they are short lived. They give you only a limited amount of time before their impact becomes old news. The trick is to submit them to the right places. If you do this, you just might get a phone call that requests an interview. That would be a tremendous outcome both for your business and website. A press release just might get your business out into the public at no cost to you.
Writing a Press Release
Before writing a press release, ask yourself these questions…
What is it you want the press release to accomplish?
Are you aiming to create brand awareness of your website or products?
Are you aiming to add subscribers to a newsletter?
Are you promoting a new product or service that you have developed?
It is also important that you know the 5 W's. You must know who, what, when, where and why. Once you know your purpose and the 5 W's, you are ready to write.
Elements of a Press Release
Headline
Remember that in order to get anyone to read a press release you must first "grab their attention". In short, the headline is the beacon to lead the way. It must be extremely capable of arousing interest. It should, of course, be bold type and the font should be larger than the body text. There should be a maximum number of characters of 80-125. Every word should be capitalized except "a", "an", "the", or words that are three characters or less.
First Paragraph
Most journalists know that the basic format of a press release includes the five W's. Who, when, what, where and why information must be the core of any news story. In a news story, these facts are included in a concise and clear way. Although many reporters may put the five W's in the first few paragraphs to allow room for a lead that is catchy, it is best to include them all in the first paragraph and up front in your press release.
Stephanie Burke of Highwire PR explains the reason for the five W's in the first paragraph is: "Most people's attention spans are incredibly short. It's key to get the most important information at the top of the page; that way, the reader takes away a solid understanding of your news."
Why is a Solid Opening Essential to Having media Outlets Pick Up Your Press Release?
David Johnson, CEO of Strategic Vision Public Relations, told Business News Daily that small businesses would be foolish in thinking that a press release will be picked up in its entirety. Johnson further explained, "Usually what is picked up, if anything is the first paragraph. That paragraph needs to pass the 'smell test' of the reporter. If it doesn't, the press release won't receive coverage."
Johnson also recommends including a short description of your company and its products, social media platform links as well as contact information for reporters.
What makes a good press release?
Usefulness
The contents of a press release need to be interesting, informative and entertaining. One has to take into account what outcomes need to be generated from a given press release and what actions should be encouraged to garner attention and awareness. It is better to include a link for more information. It should be a 'nofollow' link so that Google's Webmaster Guidelines are not violated.
Straightforward writing
The five 'w's ( who, what, when, where and why) , should be a part of any press release. There should be no jargon. This technique boosts credibility and communicates information efficiently so the reader understands the message quickly. For example, 'data management' at scale will mean nothing to people who do not know about data analytics.
Scannable
Readers do not give a lot of time to read press releases, so they have to be scannable. That would mean using bold letters, pull quotes, underlining, sidebars, bullet points and other elements that makes it convenient to scan the page rather than read it from start to finish.
Use a little fizz
Some fizz in a press release can be anything– an eye catching quote, an important statistic, or a one-sentence paragraph. Fiery blazes in writing makes it memorable.
A press release and a search release
A press release can be published online and converted into a search release. Make sure it can be easily searched by using Google and corporate search engines. Optimize the content by using keywords and adding links
Alternative formats
A press release can have alternative formats. For example a press release can arrive in the form of bullet points, infographics, podcasts, SMS, cartoons and poetry. Diversity of format also affects the quality and quantity of media coverage.
Eye-catching headlines
Strong language can also paint a picture and add sizzle. It is better to write a story first and then come up with its headline. Using alliteration in a headline can also make it catchier. For example,' Grey geese and green fields.' When writing a press release, entice the imagination and ask questions like,' Why should anyone care?' and 'Would I read this?'.
Add tweets
Using tweets in a press release makes it colorful. It also adds context. This additional boost will help a release reach a larger audience. , which makes it seem worthwhile to talk about. A relevant tweet might show readers that they are understood.
Include images
Include images to tell a story. High quality images grab attention. Studies have shown that a press release with an image is 7 times more likely to be read than a press release without one. However, it is important that a company using one in a release has rights to that image. Try not to use generic stock photos, but do use relevant and eye-catching images.
To help give some actionable advice for you today – we have compiled 10 quick tips to best leverage your press release:
10 Best Practices for Writing a Press Release
To help give some actionable advice for you today, we have compiled 10 tips to best leverage your press release:
1. Newsworthy
Is the topic of your press release really newsworthy? To be newsworthy, it should, of course, be "new". Ask yourself what you are doing in your company that is new. Perhaps you have undertaken new research. What the media really loves is reports of things that are the fastest, biggest, and most exciting. If you don't want your press releases to end up in a trash folder of a reporter, you should write about major announcements such as new products or services, special events or recognitions. You should include all these newsworthy claims and back up each of them.
2. Concise
A press release should be only one page. It certainly must never go over two pages in length.
3. Be Personal
Dynamically communicate your key messages. A quotation might be a good way to accomplish this. Most importantly, you should sound excited or thrilled about what your company is doing. Don't bother to write a press release that is not about something very interesting, new, or exciting. It won't be read if it isn't.
4. Email
If you send out a press release in the form of an email, it must be in the email main body. An attachment of a word document will not be opened by the media.
5. Be Factual and Clear
A press release is not a competition in prose writing. It is far more important to be clear, factual and informative. In any case, you should avoid 'fluffy language' in the main body.
6. No Sales Pitch
A press release must be to inform the public about an event that is newsworthy. Its purpose is not to advertise a product even though that would be a great byproduct.
7. Be Wise
Your press release topic should be chosen wisely. In order to develop a good name and reputation, strong stories should be chosen. Publish rubbish and your reputation goes down the drain.
8. Optimize
It is important to know how to write a press release that is powerfully optimized. A press release that is optimized can drive lots of targeted traffic to your website, and a number of backlinks will lead to both an increased page rank and many top ten search engine rankings for your keywords. In order to optimize, you should use some of your keywords in the first and last paragraphs. Keyword saturation should be about 2 to 5% exposure throughout the press release.
9. Contact Details
You should always be sure to put your contact details at the bottom of a press release. The contact details should include your full name, telephone number, email and mobile address. It is for your benefit for a reporter to reach you easily when interested in your press release.
10. Proof
By all means, proofreading is essential to any press release. There is nothing worse than a submission chock full of grammatical errors. If you aren't confident in your ability to proof, get someone who is to proof it.
Beyond the Press Release: Other Elements of a PR Campaign
In the entire history of public relations, press releases have been a key element in creating a feature for clients and their businesses. In the past, people have stated that any PR is good PR, but these days, that has changed.
Clients today need analytics involved in their campaigns and goals in those campaigns that can clearly demonstrate the company's return on investment.
To get the best results, creating a dynamic PR campaign is essential, and the press release, when created dynamically, and personalized according to the needs of each client, means using it in a multi-medium marketing campaign where the right message is shared on the right platform, at the right time.
Measurable Key Performance Indicators (KPIs)
Agencies should create Key Performance Indicators from the very beginning of their work with a client. These KPIs have to be realistic and strive to improve the client's sales.
A Key Performance Indicator is, essentially, a measurable value that can demonstrate to the client how effective the campaign is in achieving the key business goals – in other words, the company's bottom line. These should be established from the very start, with the PR professionals asking their clients if they can have the consumer purchase metrics and sales data of the client's company
Experiential Marketing
We're living in an era when consumers are looking for experiences more than they do for products, and it's high time for agencies to start creating campaigns that can incorporate both of those things.
The first people who should be invited on this journey once created are key industry members, such as industry influencers, bloggers, and long-lead editors.
Creating and executing interactive events is a great way to showcase the business. These people can personally uniquely experience the products or services and build their relationship with the company.
Digital Expansion
As we mentioned, companies and agencies have to collaborate to create interactive events for campaigns.
However, it's also important to develop sustainable excitement after the press and influencers arrive at those events.
That's why campaigns must have a content strategy incorporated along with those events, to be able to adapt those interesting experiences beyond the attendees of those events, with the audience online.
This can easily be achieved with social copy and images from the events and a call to action for the target audience to learn more about the services or products.
Personalized Relationships
Public relations is very much a business about people, which means developing and nurturing media relationships outside of the press release is essential.
Building real-life relationships with influencers and writers in the industry, understanding what they need, and looking for is the best way to then develop personalized pitches that are certainly going to be picked up by the right outlets.
Responding to Fake News About Your Brand Online
The increase in social media and digital communication channels has made it easier for false...
Learn More
Cannabis/CBD Trends to Watch in 2023
The public is in the favor of legalizing cannabis for recreational and medicinal purposes. There...
Learn More