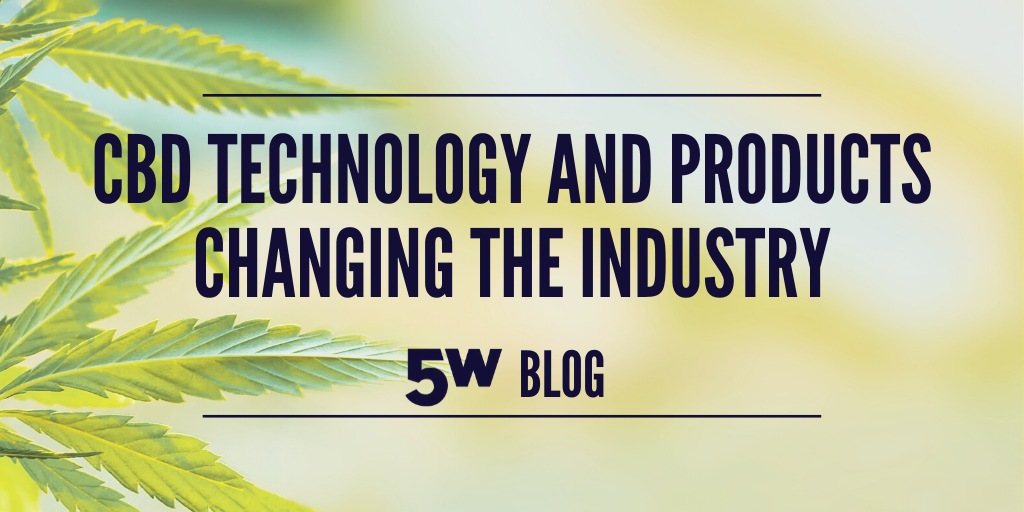 CBD Technology and Products Changing the Industry
Cannabis and CBD technology products have been on the rise in recent years, with many consumers using them daily thanks to CBD's potential to provide medical and therapeutic benefits.
5W Public Relations launched its Cannabis practice in late 2018, and have recently been recognized by Green Market Report as one of the most effective Cannabis PR Firms in 2020. To celebrate, we're highlighting CBD technologies and products that are changing the industry, and the lives of consumers who use them.
Recovery Products
For professional athletes, pain and discomfort can become a way of life. Looking for alternative recovery methods to powerfully addictive pain-management drugs, Floyd's of Leadville recognized the strength of CBD to address not only physical pain, but the depression that often accompanies it. This CBD line, used by top athletes, is easy to seamlessly integrate into daily schedules with products like CBD-infused coffee and recovery bars.
Beers
Cannabiniers, a cannabis brand management company is focused on providing exceptional, lifestyle integrated consumer products. Their consumable products, including CBD-infused beer brand Two Roots Brewing Co., are manufactured using natural ingredients to ensure delivery of a complete profile of the original plant directly to the consumer. Additionally, their products are tested for potency and quality multiple times during the manufacturing process ensuring everyone will enjoy the benefits.
Self-Care
Shea Brands was founded to pursue the common goal of creating a self-care brand, backed by science that combines raw ingredients into life-enhancing products. Their CBD products include face masks, exfoliating scrubs, bath bombs, lip balms, and soothing patches. No matter where the products are used on the body, receptors located throughout the body absorb the CBD to stimulate internal healing.
Pillows
In search of a better, safer, natural way to sleep, CBD Pillow used a process of injecting millions of micro-capsules of CBD into a pillow that then releases micro doses of CBD all night long. As you sleep, the pressure on the pillow will break the capsules, releasing the CBD for you to absorb. All materials are hand-sourced and made in the United States, from farm to pillow, so you can be confident in your sleep.
Topical Lotions
Kush Queen was created after the founder, Olivia Alexander, didn't see herself being represented in the cannabis culture and community. Their products include various collections, including ingestible gummies, and topical lotions and serums, including a bubble bath. Topical CBD products are a great choice considering your skin is the largest organ in the body, and great at absorbing the product. Regardless of soaking in the tub or rubbing a lotion on your skin, your body will absorb the essential oils quickly.