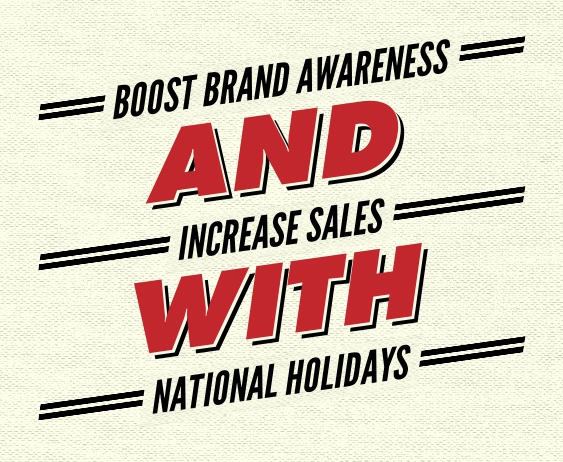 Boost Brand Awareness and Increase Sales with National Holidays
Power Up Your PR This Holiday Season
The Holiday Season, it's the "most wonderful time of the year" and a tremendous opportunity to amplify your public relations connections and opportunities. Here are a few timely reminders to help you make the most out of this holiday season.
Keep the Content Coming
For many reasons this time of year, people are tempted to back off their proactive PR communication. Too many people set their content on autopilot and just hope for the best. This is exactly the wrong approach. This time of year, emotions are high and people are looking for reasons to smile. You and your brand have the opportunity to be one of those reasons. Take advantage of opportunities to connect, internally and externally, to build brand loyalty.
Most importantly, you need to PLAN your content. Create a "content calendar" and stick to it. Invest time in determining who you want to connect with, why, and how. Do a serious accounting of your messaging and your priorities, schedule the content, then get creating and sending. Make sure to consider all your platforms so you deliver a consistent message.
Invest in the "Easy" Connections
This time of year, everyone is sending out holiday messages and posting memes on social media with holiday wishes. Don't just grab something from an image search and post it up, take some time to create something meaningful and connective, something that will cause the recipient to connect the joy of the season with your brand and message. Be creative, but don't go so far out of the box that you offend or alienate. The goal here, as with all communication, is to establish a connection and promote a relationship. Send something that compels them to smile, and then to respond.
Know What and When to Send
You have lots of "irons in the fire" and plans in the works. That's great! Folks aren't listening this time of year, so save those announcements until, at least, January. Sure, you're excited. We're excited about what we have planned too, but the simple fact is that everyone is focused on themselves, their family and friends, and their celebrations this time of year. They may honestly be interested in what you have going on, but they don't have the time or the emotional bandwidth to fully appreciate or connect with "new" this time of year.
But Don't Stop Your Pitches
While "new" may not be on the PR menu during the Holiday Season, media outlets are still looking for stories. And you have some. Good, interesting and, often, feel-good stories that can deepen your connection both with that media source and with your audience. Journalists and content creators are looking for good stuff to promote or publish this time of year, and you could be the gift that keeps on giving, if you know what to pitch and to whom. This begins with knowing your sources and with building relationships with the right opinion-makers and outlets. When you've prepared in this way, the holiday season can be a great time to re-connect and re-affirm those relationships.
If you're designing marketing campaigns to increase brand awareness during the holidays you could be missing out on gaining new customers and increased business. A perfect situation for your brand to leverage its Public Relations campaigns and gain buzz within their industry.  Here are a few ideas to help you boost sales during the holidays.
Utilize Paid Search Ads
Paid search ads can increase sales and customer loyalty for your products or services. Conducting a search on search engines like Bing, Google and Yahoo are popular methods for consumers to shop and discover your services and products. Search ads can drive traffic, increase sales and help build brand awareness. Holidays, like the 4th of July, usually see an increase in online traffic because people are searching for special sales and deals.
Discover and Utilize Free Social Media Tools
Utilizing social media to boost brand awareness has the most potential to help you build brand awareness, and it's free. Social media puts your business on par with the corporate giants. Facebook has over 500 million users. Twitter has over 200 million users. LinkedIn caters to over 100 million users.
While your marketing campaigns can't reach everyone, there's a robust population who are waiting to discover your products and services. Increased brand awareness can be beneficial to any business, large or small. Engaging your customers and continually providing relevant and useful information that solves their concerns and problems will pay off in the end.
Create a Content-Rich Blog
There was a time when the word "blogging" was merely a buzz word. Now, it can be one of the most powerful inbound marketing tools that business owners can deploy. A blog can establish you as an expert in your field, especially with respect to industry-related topics. Refreshed content on your blog also increases the likelihood your website will be indexed favorably by search engine algorithms. Blogging is an essential search engine optimization (SEO) strategy. It's a way to reward your website with higher search engine rankings.
Raise Brand Awareness Through Press Releases
One way to quickly raise brand awareness is through a well-planned and well-timed press release. The great thing about a press release is that it can benefit a business of any size. It can be used to announce information about your company's events or new products and services. There's always the possibility that other websites will discover your press release and link to it. If your press release links back to your site, this can be an added boost for your SEO efforts.
Use you in-house to support your online marketing efforts, or contract with an outside service to help drive your new brand strategies. The thing to keep in mind is that your marketing strategy should be a dedicated effort. Marketing efforts take time. Patience and continual execution is the key.