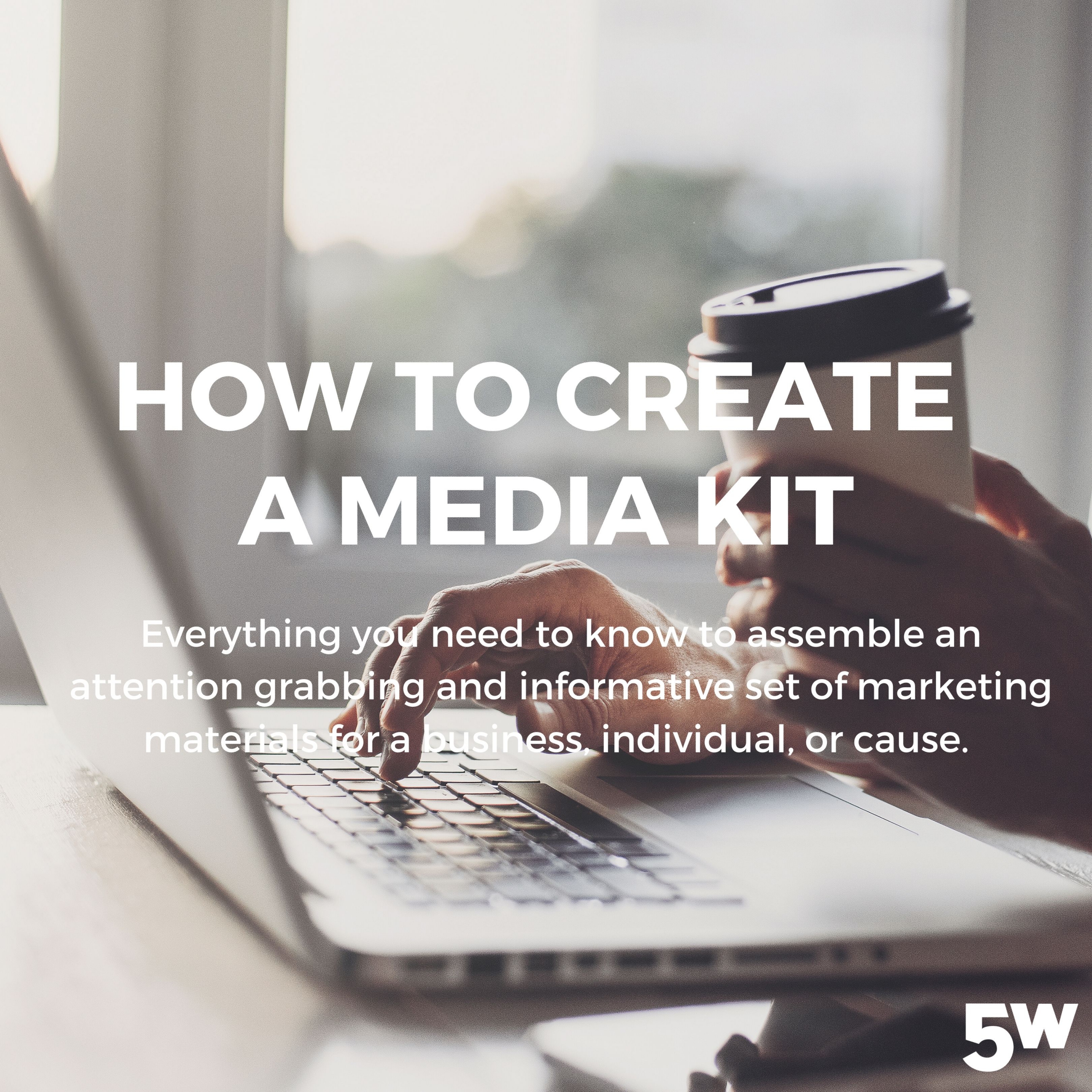 How to Create a Media Kit
A media kit, also referred to as a press kit, is a pre-packaged set of marketing materials that promote a person, business, or cause.
Media kits are an excellent way to introduce the brand to people  who may be unfamiliar with it, such as influencers, event attendees, journalists, or prospective clients.
A media kit is a first impression, which means the materials should make people want to learn more about your brand, to provide journalistic coverage of their company, and answer the question: "What do I need to know about this business?".
While a media kit is a collection of information about the brand, not all media kits will look the same. In fact, a creative media kit that showcases the brand's personality, is much more likely to be successful than a simple set of documents.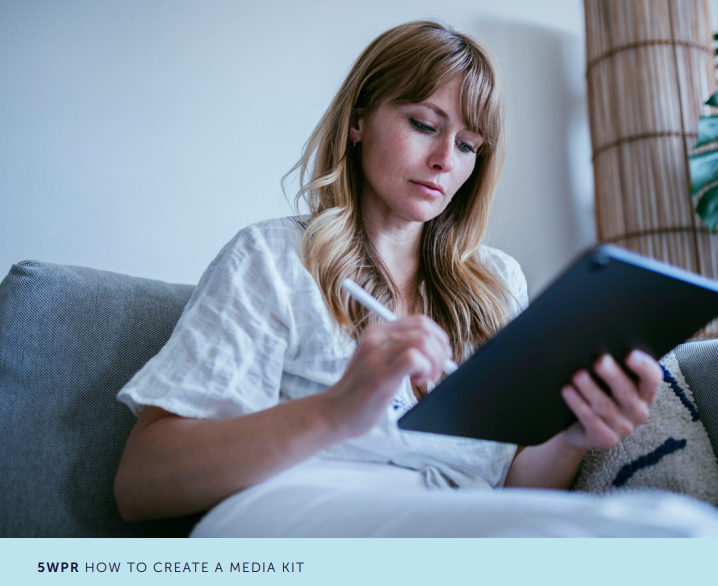 Evolution and History of Media Kits
In March 2020, digital newsroom designer pr.co published an article tracing the evolution of media kits from the 1960s until today. When media kits were first developed, they were folders containing typed paper and black and white photographs.
An Apple media kit from 1993 even included physical slides showcasing their newest technologies. Media kits used to be presented following a pitch at a press conference or other large event, but starting in the early 2000s, the best practice shifted to individualized pitches via email.
Today, most media kits are pitched via online newsrooms, or a web page attached to a company's main site that features all of the company's most relevant news and public relations information.
Online newsrooms became best practice about five years ago, and they served as a replacement to PDF format media kits. Media kits that are live on online newsrooms are easy to update, more user friendly, and are able to be indexed by search engines for more online visibility.
Throughout the years, one thing has remained the same: the purpose of a media kit is to act as a one-stop shop of information for a journalist or media source to write a feature on the company.
What to Include in a Media Kit?
The options for customization for a Media Kit and additional information are nearly endless, but these pieces are a good place to start:
• An about section that describes the brand and the company's history
• How to get in contact, links to social channels, and the availability for interviews or consultations (if applicable)
• Statistics on the brand, including date launched, headquarters, employee count, customers served, etc.
• Links to, and excerpts from, press releases and big announcements that the company has made
• Media assets, including the logo, headshots of key employees, screenshots from the website, and product videos
• The mission statement and goals for the company's future
• The offer to potential clients and partners
• Sponsorship guidelines such as posting frequency, words to use when describing the brand, and what types of content the company is willing to pay for
• Why users should care about the products and how it can improve their lives with them
Who Will See the Media Kit (& why it matters!)
Media kits are essential tools for journalists and content creators who come to the website seeking information for media coverage. A media kit provides all of the details they need, which means they don't have to contact the company directly.
While this is a definite perk, it also means that the media kit needs to be the best possible representation of the brand. In this sense, the media kit replaces a phone call, interview, or face-to-face introduction that may have been had with the person writing about the business.
In 2020, media kits are also a particularly helpful tool for initiating partnerships with influencers and other brands looking to promote themselves and their products. Direct influencers to the media kit, or they may come across it on their own.
Either way, it's important to use the media kit to brag about the company's success. In this sense, the media kit is like a resume that shows potential business partners what the brand can offer them and why they should choose to work with the company.
Benefits of Modern Media Kits
In today's world, especially in light of the COVID-19 pandemic, business is becoming increasingly digital. Digital media kits, housed either on the company website or online newsroom, are beneficial to media targets.
Modern media kits are future-proof and adaptable. Whether the company is looking to promote its media kit on social media, feature it in a post on LinkedIn, or send a link to a content creator via Instagram DMs, it can link a media kit on any platform.
Additionally, the company has the option to make updates to a media kit as needed and fix any errors that are noticed post publication.
There's no reason to stress about typos that were printed on 100 physical copies of materials. A digital media kit also gives complete control over the media that journalists will use in their coverage of a brand. Create compelling visuals that illustrate a brand's narrative and make the company more appealing.
The media kit featured in Stripe's newsroom offers resources, press coverage, user stories, and brand assets all in one place.
Overall, a strong modern media kit should increase inbound PR attention and provide journalists with the information they need to want to feature the brand.
Creative Media Kit Ideas
Formatting for media kits varies from company to company. Some look like resumes, using bulleted lists, while others use infographics and visuals to convey valuable information about a brand.
While most media kits today are digital, some brands still utilize physical media kits for large events such as conferences and conventions.
We've assembled a list with a few top examples of different types of media kits that may work for a brand:
• Media kits for events, such as San Diego Comic Con, need to be focused on day-of details to ensure successful coverage, such as date and time, key speakers, and panels
• The media kit for Sephora, a cosmetics and beauty product company, offers their mission statement as well as details on their Beauty Insider program and mobile app
• To impress top media targets, sending a physical press kit with a personalized letter of introduction and product samples can be a good way to stand out
• Online graphic design programs like Canva offer quick, easy, and customizable templates for media kits that fit the brand
• Customer service company Zendesk even incorporates interactive elements into their media kit, dubbed "Brandland" that allow visitors to learn about the brand, find resources, and ask questions
Measuring Media Kit Success
A successful media kit should use the most informative, concise, and engaging content so it can draw in readers and potential sponsors.
It's a great place to show off successes and prove to other brands and journalists why the company is a valuable asset by displaying statistics and testimonials. Images of work, products, and staff also add a personal touch.
While the purpose of a media kit is to attract press coverage and influencer partnerships, it's also important that the company uses it to define a target audience.
By including sponsorship guidelines for influencers, etc., it can exercise some control over who chooses to write about and how they portray the brand. In short, the media kit is one of the best ways to market itself to potential brands and investors — make sure that it counts!
Lasting Impact of a Media Kit
A media kit is often the most significant, and sometimes the only, representation of the brand that journalists, media outlets, and influencers will see.
No matter how they look, how detailed they are, and what form they take, the goal is all the same — give prospective advertising buyers every reason (and opportunity) to want to contact.
A media kit can be a make or break opportunity for the brand. A strong media kit that is both visually compelling and exceptionally informative, shows potential partners that you are organized, meticulous, and professional.
It makes a journalist's job easier, eliminates the need to prepare lengthy pitches, and, most importantly, makes visitors feel like they are getting to know your company.
In the digital age, trust is the biggest component for a successful business.
If consumers and journalists trust the company, they'll want to follow and work with it in the future. Now, the company has all the resources it needs to create a successful media kit that shows off the brand.