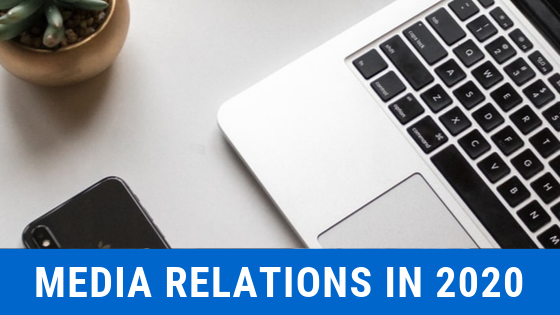 Media Relations in 2020
A couple of decades ago, the word "media" had a much more limited meaning than it possesses today. A couple of decades ago, media relations meant keeping in touch on a regular basis with the assignment editor of the local TV station and the city editor of the newspaper.  If you were a restaurant owner, it also meant nagging the food editor of the daily paper. 
What's Different?
In today's world of social media, media relations is so much broader.  In addition to maintaining healthy relationships with the local newspapers and TV stations, it also means opening up and nurturing rapport on so many other fronts. Bloggers who write about your products or industry in particular and who have a large following are critical to foster healthy and positive relations with.  They can have a huge influence on their followers. Arianna Huffington, for example ranked 77 on Forbes 2018 list of the most powerful women in the world.
Locate and identify the bloggers who best fit your industry or product lines.  One place to start looking is Pinterest, especially group boards. People visit Pinterest to get new ideas and bloggers capitalize on that.  Don't forget the folks who produce podcasts. Subjects range on everything from sports to food to depression and just about everything under the sun. 
As is true with any new relationship, it's generally better to start off slow with a new, potential blogger.  Establish a rapport and trust first before making a pitch unless the blogger and/or podcaster is specifically seeking someone with expertise in the area(s) you serve.
Familiarize yourself with their personality and style.  Is it casual or more formal? Study and know the format so you're armed with this knowledge when you decide to propose a topic.  Gather as much information as you can beforehand.
Others
And then there are special groups on various social media sites like Facebook, LinkedIn or Twitter.  Consider joining some of these groups, but before doing so, be sure to check out the do's and don'ts of each.  Some have strict rules about promoting your company or products. On the other hand, it often helps to know what others are thinking about and what they're saying.
Tool Kit
You should already have a media kit.  If so, continue to have it available and keep it updated.  If not, be sure to develop one right away. Share it with any new contacts you make.
A good media kit should include general information about your company, products, etc. as well as your contact information 24 x 7.  It should also include a FAQ sheet and other data relevant to your industry. As tempting as it may be to load your kit with tons of information, keep it as relevant within reason and opt to include links to other information that may be helpful instead.  This helps to ensure that what's in there will be read and not glossed over