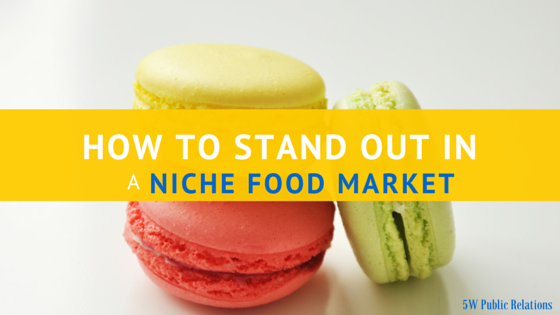 How to Stand Out In a Niche Food Market
The food and restaurant industry is a growing field that still has room for a great deal of growth. The secret is to find a niche in which you have an intellectual advantage, and of course, a superior product! 5W deals with many food and beverage companies, we love crafting stories for companies in their early stage.
You get to choose your audience and the food that you make, and there is absolutely nothing wrong with that. Crafting a compelling brand message along with a structured PR campaign, you brand can see huge ROI from following some simple steps. SEO and Public Relations are one way, but there are several other elements to dominate your industry.
Here are a few tips for dominating your chosen niche food market…
Public Relations
There is more skepticism about the food market than ever before. People need to trust your company in order for your business to thrive. This relationship is best created on a person to person level through a PR campaign. PR goes hand in hand with branding, a topic that will be discussed below briefly. In the Food and Beverage industry, those with a strong brand identity encourage trust within early consumers.
SEO (Search Engine Optimization)
Search engine optimization is perhaps the most important aspect of your marketing campaign that is served online. As you streamline your keywords and online content to achieve success on the major search engine rankings, you will also achieve a more precise marketing campaign overall by proxy.
Social Media Strategy
Social media is a great way to open the lines of communication with your customers. Nine out of every ten customers demands a response from business on Facebook; however, only one out of every four businesses actually does this. Is it any wonder that nine out of every ten companies fail after only five years on the market?
Social media also offers you data that you cannot receive without a great outlay of funds. Take advantage of the information that your customers will freely give you over social media platforms.
Brand Awareness
Your brand adds more value to your business than any production technique. Although you should definitely strive for integrity in your process, you must also strive for a public awareness of this process through your branding efforts. If you are spending more in order to ensure health or the authenticity of your food, your branding efforts will give you the ability to do this profitably.
A Good Story
Everyone loves a good story. If you want to separate yourself from your competition, then learn how to tell your story. As a matter of fact, once you become great at telling your story, then you immediately eliminate all of your competition! You may be in competition with others if you are selling the same product, but there is no way that your competition can take your story from you and use it. Telling your story properly will create loyalty in your audience. People will begin to look for you specifically rather than putting you in line with the rest of your field.
Having Great Food
As you are preparing your marketing strategy, remember that your marketing will be nothing without a great product. No matter how great you adhere to the tenants of the above five points, you will not be able to retain a customer for very long without the best product that you can possibly produce.
Everything mentioned above will give you a great deal of data from your customers. This data should be used in order to increase the quality of your brand in the eyes of these customers on a consistent basis. Anything less will allow your competition in this world of instantaneous consumption to catch up with your business and surpass it. Keep your food great in order to keep the customers that you work for!
There will always be new tools that will become available for marketing within the food industry. Although you should keep your ear to the street, the tips above will definitely give you a leg up on all of your competition.
---
As part of our Growing Gourmet event, 5W PR hosted a panel of thought leaders and social media influencers within the Food and Beverage Industry to closeout the Fancy Food Show.
Here is the full video of the Influencer Panel at Growing Gourmet: