Social Media Crisis Management: PR Communication Stategy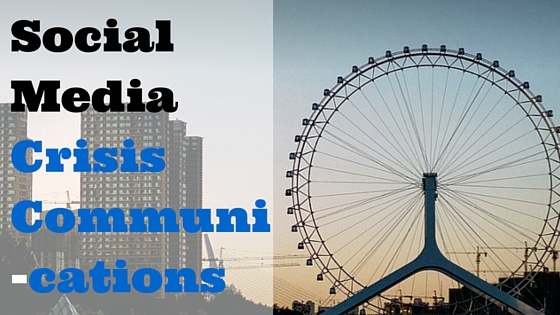 08.17.20
Crises come and go, and many, like the pandemic, can't even be foreseen. Nonetheless, those that seriously affect the brand, its employees, operations, and leadership can have devastating and long-lasting effects. The acceleration of social media has added to the challenges of crisis communications, an impact that a Pentland Analytics study says has doubled the impact on shareholder value.
The study also found that those companies that responded well saw an average increase in the value of 20% while those that didn't experience a 30% decrease. In a world where today's COVID-19 crisis is much bigger than the brand but can have a tremendous effect on its business and operations, it's highly advisable and not too late to craft and employ a social media crisis management strategy.
Priority One
As in all crises, the main priority is in identifying and knowing one's audience(s). For the pandemic, there may be several, including customers, employees, shareholders, vendors, the community, and unions. Each will likely have different needs, concerns, and goals. Identifying them and providing content that addresses each is particularly important and valuable.
While keeping operations going is important, so, too, is being transparent and informing the brand's different publics about what's going on. Because of unexpected and unforeseen regulatory changes that can be imposed at any time, the ability for flexibility is also important. Brands must be able to not only quickly change or stop operations in response to such changes but also adept in notifying its publics of the same.
Because most marketers plan ahead, any sudden changes in rules or regulations also mean reviewing upcoming plans and marketing materials to be sure that they're still in compliance. While considering these, marketers also should be aware and mindful that consumers are also hungry for good news. Anything positive that can be inserted on the brand's various social media platforms will not only brighten some customers' days but also cause them to reflect positively about the brand. Even distractions like activities can be helpful.
Emotions
In times like today, brands that lead with empathy will be well-remembered. Anticipating, understanding, and addressing customer concerns, and even fear will help make the brand stand out. Fostering this sense of connection and positioning the brand as a pillar of support and source of helpful information will be long remembered after the pandemic is over.
Chatbot?
Brands inundated with many of the same questions and concerns should consider a social media chatbot to disseminate consistent answers quickly and clearly. Ensuring that website traffic is easily directed to a FAQ site, tips, or other resources will also be helpful.
One of the most important tools brands can employ social listening tools to gather and analyze social media messages over customer concerns because of the pandemic. The data gathered can be a useful source for new ideas and inspiration.
Getting the communication basics right
The basics remain the same: communicate honestly and openly. Acknowledge the risk, uncertainty or ambiguity. Accept responsibility or accountability. Communicate with empathy and compassion, meet all the needs of the media and make it a priority to remain accessible. Do your best to alleviate any suffering.
Coordinate with other parties
Social media affords stakeholders an opportunity to create content, all of which must not only corroborate but also complement each other. Take an airplane crash, the stakeholders include the airline, the airport, the aviation authority, the plane's manufacturer, airline registration bodies, the government and various technical advisors. As a professional courtesy, each body should provide the other with a copy of any public statement including new information, allowing them time to respond.
Communicate individually
Only 2% of Twitter followers see tweets because the feed moves so fast. Equally shocking, a Facebook organic page only reaches 2.6% of its members. Interestingly, 25% of all verified accounts on Twitter belong to journalists, 53.8% of those regularly use the site. If anyone with a Facebook account co-opts your messaging, you lose your voice. Your company's role in a crisis should be to avail resources and accessibility to stakeholders amplifying your message.
Be prepared
Conduct practice communication drills and when crisis strikes, incorporate social media from the start. And whatever else you do, when crisis hits, remember to keep in touch with your customer base and those who may intimately feel the pain of the events with you.
Bottom Line
The pandemic has created stress and hardship for consumers and brands alike. Where brands have a silver lining is in employing these tactics and seen as standing out among its audiences as that port in the storm and one that can always be trusted.
Cannabis Tech Public Relations Strategy
The cannabis industry is constantly changing and while there are many things that are pushing the...
Learn More
Crisis Communications and Public Backlash
Recently, the social giant Facebook announced that it would start testing ads inside its virtual...
Learn More
Related Crisis Communications