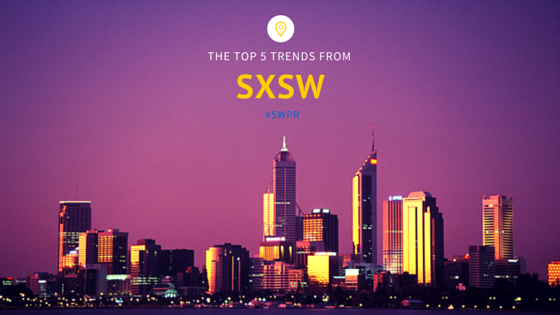 Top Trends from SXSW
The SXSW Interactive Festival has long been a test bed for new trends that frequently capture global attention. The most anticipated subjects and hottest new trends being discussed at this year's festival offer a glimpse of the new technologies and social trends that may be just around the corner. In addition to making waves at the latest festival, the following five trends all have the potential to make a significant impact in consumer markets far beyond the city of Austin.
New Developments Within the Startup Ecosystem
The SXSW Festival provides entrepreneurs, new business founders and those seeking to invest in a new startup the chance to meet and interact. Changes seen in the past year, including the controlled deflation of both the early- and late-stage private company economic bubbles, has done much to influence the startup ecosystem. This subject is one that may have a considerable impact on the ways that new businesses establish themselves in the days to come. From privatized aerospace businesses to tech-startups that cater to micro-niches, new developments shaping the full market-wide startup ecosystem has been a hot-button issue that conference goers have been unable to ignore.
New technology and the latest innovation within the transportation industry is poised to create nothing short of a revolution, one that will redefine everything from startups and established businesses within transportation industry to urban design. With features speakers like US Secretary of Transportation Anthony Foxx and numerous panel discussions focused on self-driving cars, the future of automation is one of the biggest trends at SXSW 2016. The future of robotic-driven vehicles and future tech developments that may have a substantial impact on income and employment are all issues that are being widely debated at the festival.
Lawmakers and Socially-Conscious Consumer Trends
From short term tends like the future of self-driving vehicles to long term issues such as discussions regarding universal income and basic wage, the rapid rate of automation within the workplace is an issue that is receiving a great deal of attention at this year's conference. State and federal lawmakers are embracing the tech community in a bigger way than ever before, a trend which is highlighted by the participation of President Barack Obama. With lawmakers beginning to take notice of the many social and economic changes previewed during the festival, this years SXSW has the potential to be even more influential than those held in the past.
While a few key brands and market leaders are driving much of the innovation at this year's festival, younger consumers seem increasingly interested in creating a more socially-conscious future. Events like the Branding and Marketing Tack, SXgood Hub and Dewey Winburne Community Service Awards which celebrate and recognize community spirit all highlight the growing importance of socially-conscious consumer trends. The increased attention and interest surrounding socially-conscious business practices and consumer trends can provide a valuable glimpse into larger market trends that have the potential to make a truly global impact on the days to come.
Medical Innovation and Social Diversity
From the Affordable Care Act to the growing popularity of wearable digital devices, the abundance of innovation shaping the healthcare industry has made a major impact on this year's festival. With Under Armour founder Kevin Plank delivering a keynote address on the subject, healthcare innovations and the latest medical technology are both major trends at this year's event. The latest healthcare breakthroughs and the most exciting innovations of the near future are being widely discussed by attendees who are eager to enjoy a preview on new technologies that may become widely available in the very near future.
The push for greater diversity within the tech sector continues to gain new momentum, and the topic is being addressed at SXSW by speakers such as Tracy Chou, Michele Madansky and Trae Vassallo. The need for even greater levels of diversity is also one of the main themes at the festival's first Online Harassment Summit, where attendees are invited to learn more about new solutions for creating a safe and civil online environment. This trend has experts from fields like social media, online gaming and even public policy collaborating in an effort to make both the Internet and the world more tolerant, diverse and inclusive.
Virtual and Augmented Reality Technology
There has been a great deal of speculation regarding how VR and AR trends are poised to be the breakout technology of the year, and both concepts are receiving a great deal of attention at the 2016 festival. VR and AR technology is being discussed, showcased and previewed, including both the VR/AR Track and Experience, which provide attendees the chance to experiencing the latest innovations and developments firsthand. The growing sophistication and falling prices of mobile devices suggest that VR and AR are technology trends whose time has truly come.
While VR has continued to generate buzz off an on for the past few decades, 2016 promises exciting new innovation for a technology that has much to offer. VR and AR trends should make quite an impact on this year's event and provide other tech innovators with new ideas regarding potential applications and future uses. From panels and addresses to the opportunity to experience new technology first hand, VR and AR technology is playing a major role in SXSW 2016.
What to Take Away From SXSW 2016
What to expect from the SXSW Interactive Festival is a subject of much debate and speculation each year. Trends like automation and employment, virtual environments and new developments within the healthcare industry are all receiving a great deal of attention at this year's festival. For those who look to the festival in order to enjoy a preview on the major trends, innovation and development that future will bring, this year's event has no shortage of subjects that should be followed closely. Paying attention to the hottest trends and most exciting new developments at this year's SXSW can provide much needed insight on the major market and social trends that can be expected throughout the rest of the year.