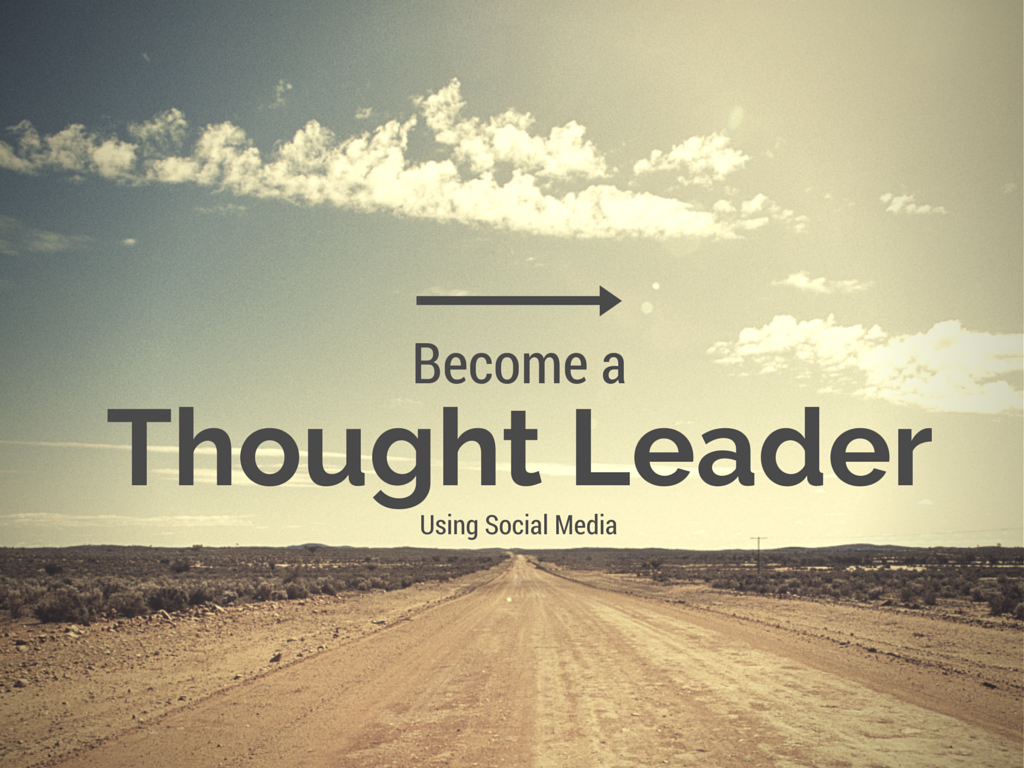 How to Become an Industry Thought Leader using Social Media
Social Media Marketing strategies assume a crucial role in any digital branding campaign. Many people use social networking sites to position themselves as thought leaders. The return on investment with Social Media is huge, because there is no cost associated with creating accounts. The only investment needed is time to monitor and deploy – and a solid social media strategy.
Make sure you have the staff or time to devote to monitoring the messages, conversations and engagements that occur on social media – otherwise you risk missing crucial opportunities that help make social media marketing so effective.
Everyone is on Social Media now, so it's important that you stand out and create compelling content that positions you as an industry thought leader.
Here are the best tactics to position yourself as a thought leader on Social Media.
Target your Audience
An important factor in a social media positioning strategy is to understand your target audience. You have to know both who your target audience is and how they use the Internet. The social media habits of a retired golfer are definitely different from those of a young suburban mother.
Your message and positioning strategy must capture the attention of your audience. Combining different platforms for example, Twitter, LinkedIn and Facebook – is crucial for a professional photographer, but a bit too much for a confectionery shop manager. Hang out online where the target audience invests their time and watch their interactions before engaging them in conversations.
Provide Solutions for Potential Customers
One of the best methods for positioning yourself as an expert on social media is to provide your audience with solutions to issues they face relating to your business. Link your social media profiles with your blog filled with solutions and useful information. Engage with potential clients on social media and find out whether they identify with your products or services. Providing valuable content positions you as an expert in your field and attracts valuable feedback from potential clients on social networking sites.
Converting Visitors to Customers
Visitors to your social media profiles are much easier to convert to loyal customers and followers if you make personal contact with them and encourage them to share their opinions with you. Include payment methods or subscription forms on your homepage and link this to all your social media accounts. Grab the attention of your followers by providing informative content through your social media profiles.
Transparency and Responsiveness
Transparency is fundamental when engaging with people in social networking sites. Spam radars are extremely strong in people who use social media regularly and simply sending them marketing and promotional messages will turn people away from your social media profiles.
Be genuine and real when engaging with people in social media, pretty much as you would treat a customer or friend in a store or social setting. If somebody posts negative comments about your product or service, react immediately and professionally and try to settle the issue, paying little attention to who is at fault. Such speedy responsiveness show your potential clients that you care about your customers and their experiences with your products or services.
Here are another 6 tactics that 5W's Social Media Team uses, to help our clients, establish themselves as authorities' in though leadership within their industry.
• Register on different social networking sites. To use social media to position yourself as an expert in your industry, you cannot depend solely on a single network. Taking part in various avenues of social media will grow your reach to millions of web users and expand your customer base. Register with multiple social networking sites and complete your online profile for each site you join.
• Determine the type of audience that you are going to target. Most social networking sites allow you to browse potential client profiles and send them friend requests. Browse for people and groups who have listed interests that identify with your business and add them to your network of friends. Once they start following you, you can connect with them publicly or privately through private messages.
• Connect with your network on a personal level. Despite the fact that you are using social media for business and professional growth, keep in mind that trying too hard can make your profile lean more towards self-promotion rather than social networking. Mention your business, products or services, but do not be excessively self-promotional. Address your audience on a casual level about topics relevant to your business.
• Circulate links. When you post blog articles, comments, bulletins or event invitations, add a link to your website. You can link to any page you need that is relevant to the topic of your post. This strategy can drive more traffic to your site.
• Link your social networking profiles. If you are promoting yourself or business on multiple social media sites, let your audience know about this. For instance, include links of your social media pages on each profile.
• Keep your social media profiles active. The best approach to use social media profiles to market yourself and your business is to remain active. Post new content and connect with your fellow users on a regular basis. Making your presence known on social media sites will draw the attention of other users to your profile.
One of the easiest and most cost-effective methods of positioning yourself as a thought leader in your industry is to use social networking sites. With millions of people using these sites every day, social networking sites offer free promotional platforms – and a sales channel if done correctly.