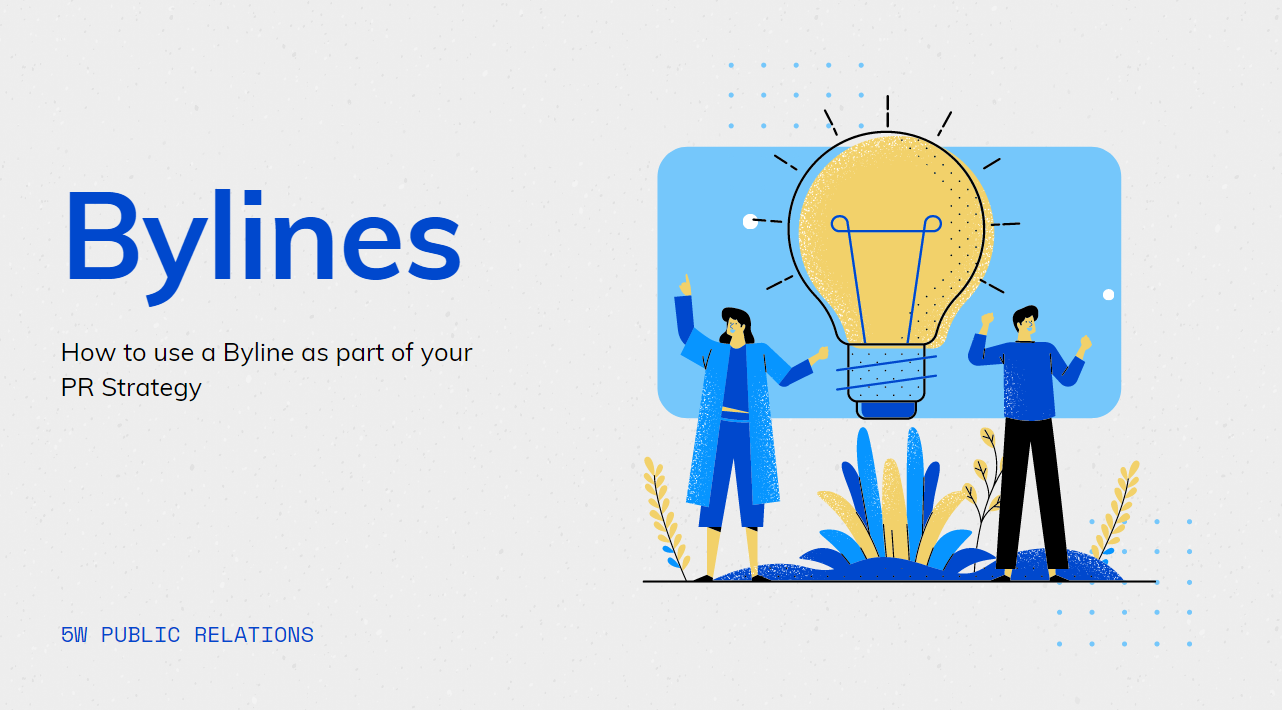 Bylines: Using a Byline as part of a PR Campaign
A byline is content on a publication that features the authors name. Bylines are featured at the beginning of the content, or at the end as a signature.
Having a list of contributed bylines that have been by a professional is an excellent tactic for any public relations strategy. It's a way to demonstrate to an audience that the brand or the executive emphasizes thought leadership and helps the brand establish itself as an industry expert and as a voice.
However, having the perfect byline takes a lot of ongoing commitment to high-quality content, focus as well as preparation. In fact, when it comes to having a bylined article, it should never be a one-time thing that a person does and then forgets about it. Bylined articles should always be a part of the content calendar, and are only one of the many tools that brands should be using in their visibility programs.
First of all, let's go back to the beginning and talk about the byline itself and what that entails. The term "byline" is the part that shows the readers of an article who is the writer behind it. There's no need to be employed by a publication to be able to write a byline article or even a contributed piece for that publication. This is because many publications are always on the lookout for fresh new content that's going to appeal to their audience.
In order for an article to be interesting to a target audience, there are several checkboxes it needs to mark before it's even written and then published.
Create a Relevant Bylines
For a successful public relations strategy that involves bylined articles, it's important for those articles to discuss prevailing opinions or relevant issues. This way, the byline is going to offer relevant content to the audience and boost the public image and awareness. If the information isn't relevant, it's only going to be ignored or overlooked, which is not the point of a public relations strategy.
Furthermore, while writing the piece, it's important to be unbiased and to avoid overtly promoting the brand itself, as editors rarely want to publish a sales pitch. It's better to write about expertise or experiences, rather than products or services.
Publishing the Byline
After writing the article, the next step is to identify any relevant publication that can publish the piece. It's important to look for publications that are relevant to whatever the byline is discussing, as pairing articles on interesting alcoholic cocktails with healthy lifestyle outlets is not a good idea or a good look. After identifying all the opportunities, contact the editor to confirm any policies or specifications regarding the piece. Edit the article accordingly and send it on its way.
Promoting Bylines
Most of the time, after an article is published, it becomes copyrighted material to the publication that published it, which is why it's important to follow their copyright rules. However, there's always the possibility to buy reprints, which can be used as part of a press kit, at trade shows or even in customer mailings. Additionally, some publications might even offer the electronic version of the article for any online posting.
Using Bylines to Boost your Brand Visibility
Most of the time, at the mention of public relations, people think it's all simply press releases and announcements from brands and corporations. However, there are plenty of strategies and tools that businesses can use in order to boost their brand visibility, which often goes beyond a press release, including communicating with journalists, sharing industry trends as well as customer case studies, as well as using well-crafted content along with a byline.
In a world where most businesses and publications are constantly looking for a good way to promote themselves to their audiences, it's crucial to create good content, especially from leading company executives. This type of content has to be interesting to the public, and shouldn't simply be used as an easy marketing tactic to promote sales.
There are plenty of advantages to using bylines, however, one of the main ones is the fact that the business can control all of the things that are being published, which means the business doesn't have to rely on journalists or editors who choose what's going to be included in the story. With this type of content, businesses can control the content itself, as well as the way that they are going to be perceived by their customers along with their competitors.
Thought Expert
Creating and sharing a bylined article is often one of the key elements of successful public relations campaigns for many businesses. These types of articles are a great way for niche audiences to get a better sense of the point of view of the business on a particular topic.
When the audience reads something that's been written by a person in a leadership position for a brand, they start to see them as an expert in their field. The article can always include a lot of details about the topic that's being discussed, including statistics or third-party data, which can then be used and further developed into other types of content.
The public is going to trust that business a lot more and will share that through word of mouth, which will, in turn, increase brand awareness. A bylined article also means that there is more content to be promoted on the company's social media profiles, which is always a bonus.
Promotion
Before the launch of a product or a service, a great way for businesses to set the stage for the launch is to get as much attention as possible. Having a bylined article is going to achieve that goal, as well as boost the brand's visibility. The article can be covered by many well-known publications in that particular industry, and gain even more popularity, both with news outlets and with the public.
When it's used properly, a quality bylined article can get a lot of eyes on the brand, which is especially useful before a product or a service launch. That's because once the launch happens, many people will already be familiar with the name behind that service or that product, and will, in turn, be more likely to make a purchase.