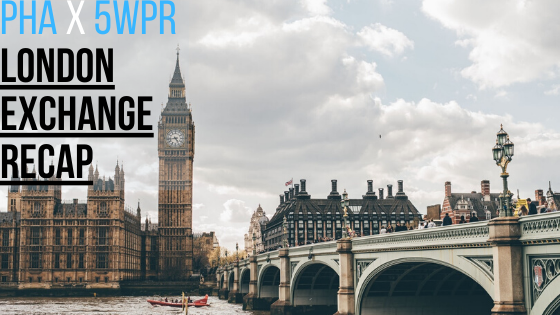 PHA x 5WPR London Exchange Recap

Marijana Gucunski's Exchange Blog: My Time in London
I have a huge passion for travel, so exploring London in our free time was an exciting part of the experience for me. Some of the highlights of the trip were going on the London Eye, visiting Platform 9 ¾ and absorbing any holiday experience (Christmas markets, holiday décor, seasonal cafes, and more) we possibly could. The sightseeing impressed me beyond my expectations! Amongst everything, my favorite part of the sightseeing was exploring the everyday places dressed up for the holidays.
One of the experiences that got me in the holiday spirit in the best of ways was breakfast at the Quince Tree Café. Located within a nursery, this "café in a greenhouse" was dressed with beautiful holiday décor- Christmas trees, wreaths, ornaments and more, offered for purchase. Walking through the nursery to get to the café, I was welcomed by the heavenly smell of fresh spruce, and stunning wreaths adorning the space. I enjoyed the experience and breakfast so much, I returned a few short days later to take it all in all over again. I can't wait to attempt to recreate their veggie toast and find my own holiday greenery to bring into the home.
I had to also experience some of the more "guidebook recommended" destinations including the Coppa Club igloo pop-ups and Trafalgar Square Christmas market (and mulled wine!). It was fun to get in the holiday spirit with locals and visitors alike as we enjoyed seasonal food, drinks, and décor. The hustle and bustle of these destinations was a stark contrast to my leisurely breakfast at the Quince Tree Café, but I loved being surrounded by the energy and excitement of people ready to absorb every ounce of holiday joy that these destinations brought.
All the holiday enjoyment made me reflect on how seeing London during the holidays is one of the best ways to really experience this dynamic city. Not just for the beauty of the décor and taste of the holiday food and drink, but mainly because the holiday excitement is brought into everyday places and destinations. As a visitor, you're inspired to visit the local café just as much as the "top 10" attractions. In turn, you have more time to really learn the culture and people of the city. Ultimately, my experience became more fulfilling because gone were only the hurried moments to capture a photo, and instead, they were replaced by reflective time that inspired. I'm coming home with a strong sense of what makes London such an amazing city, and why so many people are proud to call it home.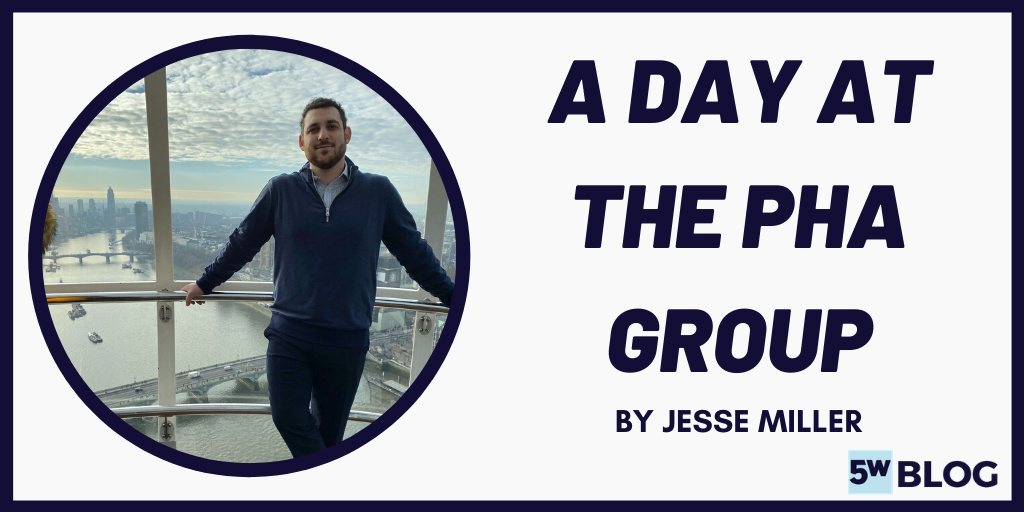 Jesse Miller's Exchange Blog: A Day at the PHA Group
Cobble roads, fish and chips, meat pies and warm beer. This is the majority of initial thoughts when traveling to London. For me, it was a little different. Adapting to the culture in London was quite an interesting task. Our days in London started early with traditional breakfast and London's finest Americano Coffee (very un-tourist like of me). However, my time at PHA was absolutely amazing, the minute we walked into the office we were welcomed with open arms. Nothing spoke truer to the London culture than the PHA office itself. The office was filled with sweet treats, fresh tea and of course the classic biscuits.
My day to day was jam packed with on-site and off-site meetings, ranging from tours of LinkedIn and Daily Mail office to internal brainstorms and group meetings. In our down time we had the chance to meet and talk with a few of PHA's amazing employees. One thing that really stood out to me was a lead generation tactic that their crisis department leveraged…Newspapers. They told us that every morning they would read the newspaper to try and locate any "hot" stories that they could try and go after.
I also was able to celebrate my birthday at the office, and when I tell you they LOVE birthdays, they freaking LOVE birthdays. In all my 26 years of celebrating birthdays I have never seen a group of people to enthusiastic and heartwarming about someone's birthday. I just want to THANK ALL OF PHA for making my trip to London one that I will never forget, and hopefully we will all be reunited soon!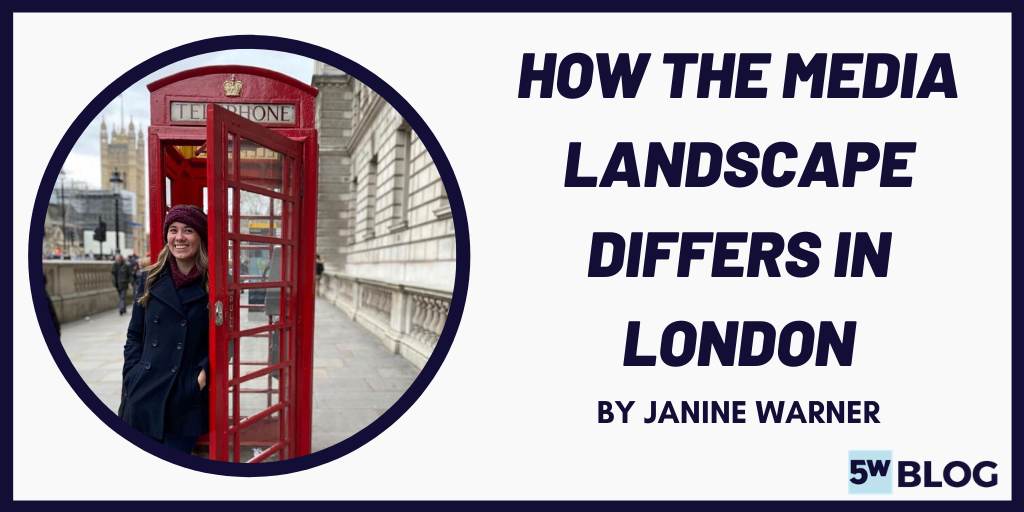 Janine Warner Exchange Blog: How the Media Landscape Differs in London
Having the opportunity to work alongside the Enterprise division at The PHA Group provided me with a valuable inside look at how the U.K. media landscape differs from that in the U.S. – and how it's similar.
While working with the PHA team to pitch London-based media, the most notable difference was that the U.K. media landscape is significantly smaller than the U.S.'s, particularly when it comes to clients with a London-specific focus. For these types of clients, target media outlets include City A.M., Daily Mail, Daily Mirror, Evening Standard, Metro UK, The Guardian, The Sun and The Times. This is a stark contrast to the media landscape in the U.S., which is home to hundreds of go-to publications. Even further, there are not many U.K.-based trade publications at all. In comparison, the U.S. has no shortage of niche outlets spanning a wide breadth of sectors, including healthcare, finance, and real estate.
Evidence of the U.K.'s smaller media landscape is also apparent in the broadcast space. From my time at the office, I gathered that BBC, ITV, and Sky are the three major networks in the U.K. (in fact, TVs in the PHA office were always tuned in to one of these channels!). I learned that if a client requests a broadcast segment, they automatically turn to a producer at one of these three networks. This is a strong dissimilarity to the broadcast landscape in the U.S., where a variety of broadcast outlets are available to work with, from Fox Business to CNBC to Cheddar TV.
As with everything else, there must be advantages and disadvantages associated with working in a smaller media landscape. That being said, there is no doubt that U.K.-based PR professionals have less options available to them when it comes to the number of outlets at their disposal.
I also noticed that the U.K. media seems slightly more focused on sensationalized news hooks than U.S. media – particularly when it comes to the Royal Family (which makes perfect sense!). For instance, during our visit, the recent Prince Andrew scandal was completely dominating the news cycle, mirroring how news surrounding President Trump can take over our news cycle.
Additionally, the 5W team had the opportunity to visit the Daily Mail Online and speak with one of the site's editors, who provided insight into how they cover the Royal Family and how they decide whether or not to pursue a story, explaining that they often factor in the level of exclusivity, or gossip. While I do recognize that a number of U.S. media outlets are interested in celebrity gossip, it was interesting to see that some of the more "serious" outlets in the U.K. are, as well.
Despite these differences, however, I noticed that The PHA Group's strategy for conducting media outreach is similar to 5W's. The PHA team creates an initial target media list, drafts a media-worthy pitch and then begins outreach. If they receive no responses, they follow up and expand outreach to additional reporters.
Overall, it was both interesting and insightful to experience firsthand the differences between the U.S. and U.K. media landscapes. Moving forward, I imagine that I will read London-based news through a slightly different, more informed lens!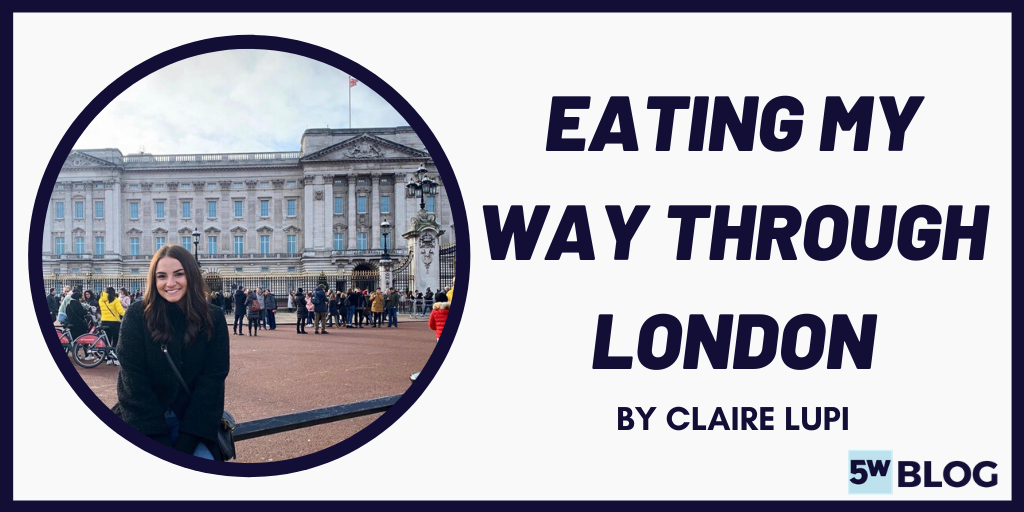 Claire Lupi Exchange Blog: Eating My Way Through London
Meat Pies, Halloumi, and the Best Truffle Pasta of My Life
One of my favorite things to do in New York City is to find new restaurants to try, so it goes without saying that I was extremely excited to explore the dining scene while on our exchange in London. We found that the two cities were definitely similar in the type of restaurants they each offer, but found some interesting differences in our dining cultures.
Traditional English Breakfast
The food scene in London is very similar to New York City, with the exception of a full breakfast every day. While we were on our exchange, we traded in our bagels and coffee for a more relaxing experience – sit down breakfast. Every morning, the hotel we stayed at provided a full English Breakfast which traditionally consists of some type of egg, sausages, baked beans, roasted potatoes, grilled tomatoes, and of course bread or toast.
Halloumi: a lunch staple
What is halloumi you ask? This type of semi-hard cheese is practically foreign to us in the states, but it's one of the most popular items on menus throughout London. Due to its high melting temperature, the cheese can be fried or grilled without losing its firm shape and texture. With the advice of our friends at The PHA Group, we ordered halloumi as a salad topper, in burger form, and the best way…fries!
Meat Pies, Homemade Pasta…and more Meat Pies
For dinner each day, the 5W team sifted through the variety of recommendations from our trusted new team members at PHA and set out for some really incredible meals.
The most memorable thing I ate was a meat pie from The Windmill in London – a traditional British pub about 15 minutes away from The PHA Group office. I've always been a fan of Shepard's Pie (who doesn't love a mashed potato topper?), but Meat Pies in London were unlike anything I've ever tried before. The menu at this particular pub had a variety of meat fillings, but I decided the try out the turkey pie. A flakey homemade dough was filled with roasted turkey, bacon, cranberries, and cheddar cheese – literally a Thanksgiving pie that blew all of us away. It was the perfect traditional dish to try when we couldn't eat any more Fish & Chips.
Another amazing meal we had was a smorgasbord of homemade pastas from a little Italian restaurant down the block from the PHA office. Lina's was highly recommended by our British colleagues, and we were so happy it was. It reminded me of a lot of Misi in Brooklyn, but at the fraction of the price tag. We were able to try every pasta on the menu…and then some! Each dish came out better than the last, and to this day I can say that it was the best truffle pasta I've ever tried.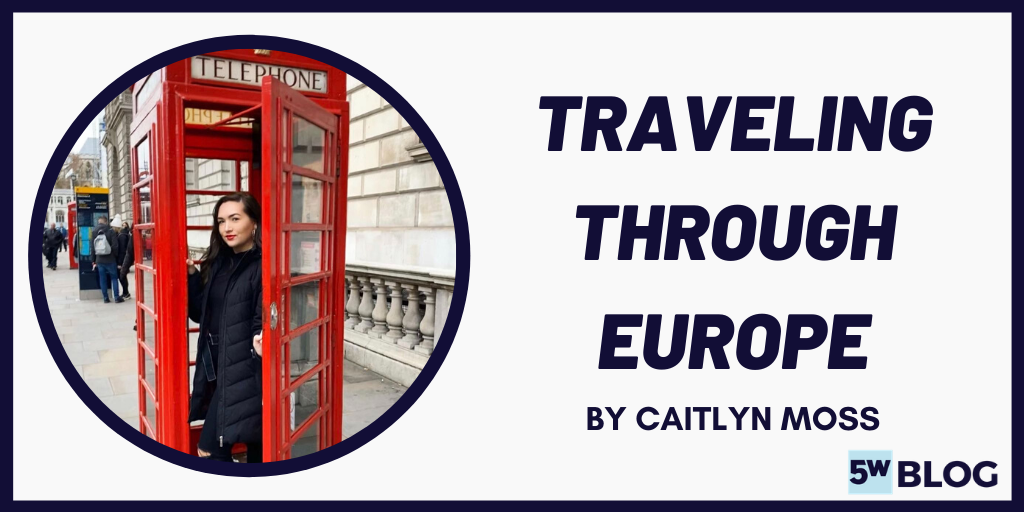 Caitlyn Moss Exchange Blog: Traveling Through Europe
Traveling to Europe was an amazing experience. It was a great opportunity to get a new perspective on the world and put myself out there in a new environment.
Ahead of my trip to London to partake the in the PHA Exchange program, I decided to take the opportunity I had and expand it. It was a great opportunity to immerse myself in other cultures and see more of the world. During my trip I traveled to Paris, Berlin and London. I've been to Paris before, around three years ago, but it was my first time visiting Berlin and London. Each city was unique and beautiful in its own way.
I left New York the day before Thanksgiving, the busiest travel day of the year. Getting to the airport was a trip in itself, but once I got through all the airport craziness it was smooth sailing. After a seven hour flight, we landed in Paris. A city filled with beautiful architecture and crowds of people. With tons of things to squeeze into only a 24 hour visit I made sure to stop at all the top spots. The Eiffel Tower, a few pit stops at cafes for a croissant and espresso, Musee D'orsay, and a nice dinner, sipping on wine and enjoying some classic French dishes. I was only in Paris for a short time but I enjoyed every second of it.
Next stop was Berlin, Germany. Somewhere I never imagined visiting, but after a last minute decision I found myself in an amazing city filled with so much history and unique culture. I spent 4 days soaking up all I could. Visiting historical landmarks and touring spots like the Berlin Wall, Museum Island, and spending the nights at various Christmas Markets set up around the city.
Finally, we land in London. This was my first time in London and one of my favorite cities I've visited. Along with working at The PHA Group for the week, we spent our nights testing out interesting cuisines like fish and chips and meat pies and checking out the night life while enjoying each other's company. On the weekend we toured the city, checking out the Palace, taking a ride on the London Eye, and walking the streets of the city taking in everything we could.
Overall, my experience was amazing and one I'll never forget. A big thanks to 5W for allowing me to travel and see the world while getting to learn more about the ins and outs of PR through our friends over at PHA.