What is Necessary For PR in 2022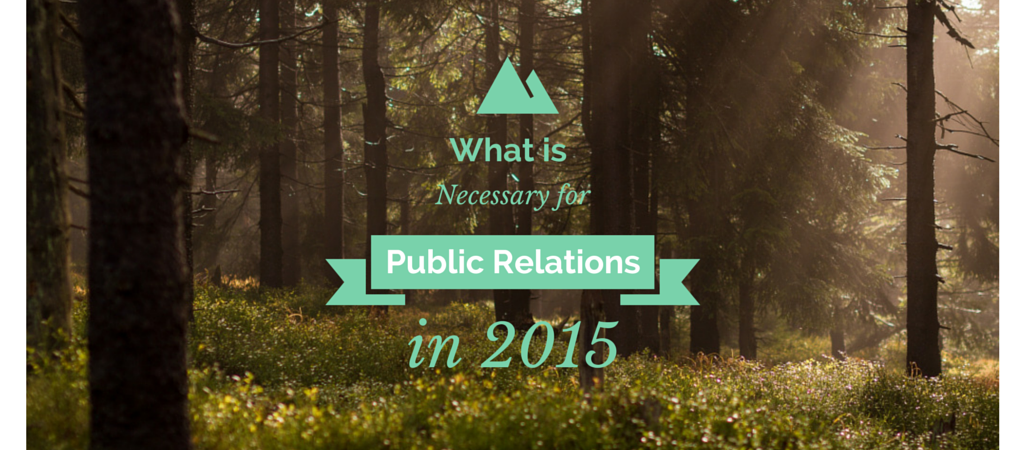 03.20.15
Many public relations specialists are realizing that they need to update their skill set and services to remain competitive in an intense, crowded market. Here at 5WPR, we recognize the importance of maintaining a cutting edge, contemporary outlook towards the world of public relations. As a result, we've integrated numerous new strategies and techniques to ensure that we can offer our clients the most current, relevant services available on the market.
Here are just a few of the skills we've successfully integrated into our praxis and implore all PR Professional's to think outside the traditional PR box to generate results for their clients!
As many public relations experts now acknowledge, social media optimization has become an integral component of the PR process. In short, connecting clients with customers through channels like Facebook, Twitter, and Pinterest is an inalienable aspect of the public relations process in these modern times. In the past, this type of work has oftentimes been delegated to a digital advertising firm or social media marketing team. In 2022, however, public relations experts are realizing the need to interface with the general public and build the client's brand through this medium. Therefore, PR firms that wish to remain relevant and productive this year must master the art of social media optimization. This process can involve anything from learning how to run a contest via Facebook or developing promotional tweets that have the power to go "viral" in a matter of seconds.
Press Release Enhancement
These days, many of the press releases disseminated by public relations teams are outdated. In terms of form and content, many PR firms are still simply writing text that they expect the public to read. But nobody wants to "just read" these days. Rather, they want to be visually stimulated with content enhancers such as infographics, videos, and logos. With this type of updated format, readers can quickly scan a press release and gain a general understanding of what the piece is about. For this reason, forward-thinking PR specialists who are serious about building the brand of their clients must focus on enhancing press releases such that they are no longer simply a "wall of text." Savvy PR specialists will focus on remaining receptive to the perpetually evolving and interacting worlds of graphic design and internet marketing to ensure that their approach to the world of press releases is optimized and up to date.
Content Marketing
In the past, the work of content marketing has been designated to digital marketing or web design firms. Yet as a result of the fact that the worlds of marketing and public relations are now being integrated, this is a skill set and service that public relations specialists will need to acquire and optimize in order to maximize efficacy. Although the term "content marketing" can be defined broadly, it typically involves the process of creating clever, contemporary content and subsequently advertising it on the appropriate channels in order to drive traffic to the client's product pages. The end result of an excellent, efficient content marketing campaign is boosted conversion rates. Public relations specialists that wish to maximize the efficacy of their content marketing skills will need to focus on target market research. Doing so will help facilitate an understanding of the language and ideologies indigenous to the people who are most likely to buy the client's products and services. Once this knowledge is acquired, the PR specialist can carefully cultivate and optimize the client's content to ensure that it will catch and maintain the attention of the target audience. PR specialists will also need to learn which social media channels to market the client's content on as well as how.
Online Reputation Management (ORM)
In the minds of many, the heart of public relations is developing the client's reputation such that the business attains and maintains a positive image in the mind of the public. In this contemporary era, this type of reputation management must be done in the online realm in addition to the offline sector. The process is commonly referred to as "online reputation management." Public relations specialists who want to ensure that their clients maintain will need to use ORM strategies such as monitoring internet reviews to ensure that the brand will "shine" online.
Here at 5WPR, we pride ourselves on remaining cognizant of best practices and emerging trends within the public relations industry. As such, we're excited about our integration of several new skill sets and services this year. By updating our methodologies and techniques in 2022, we are able to offer our clients the most relevant, effective public relations services possible.
What to Expect at the North American International Toy Fair
The 2023 North American International Toy Fair is a highly anticipated event in the toy industry....
Learn More
The Top Three Beauty Trends 5W Saw at Adit Live NYC
The beauty industry is ever evolving, and Adit Live, independent beauty's leading trade show for...
Learn More