From Social to Sales: The Marketing and PR Power of Oprah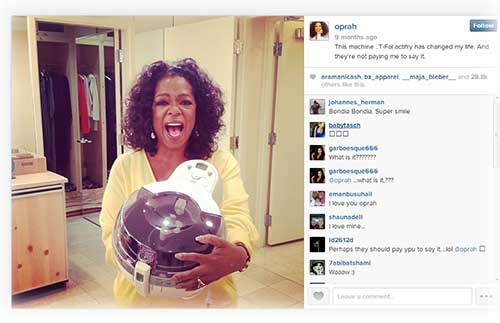 11.12.13
The Power of Oprah. According to Compete.com site analytics, Oprah.com received approximately 1.8 million unique web visitors in September, the last month of full rankings. In PR and media circles, that is considered to be a big number.  Does that mean that 1.8 million people will read that article? Of course not, but it does mean that our client was placed in front of a lot of eyeballs. Additionally, in a true testament to the ActiFry's quality, Oprah actually posted a photo of herself holding the product back in February with the status update: "This machine ..T-Fal actifry has changed my life. And they're not paying me to say it." Do you know how many people liked it? Around 29,000. Talk about a major celebrity endorser. Speaking of social
The Impact of Social Reaction.Apparently a ringing endorsement from Oprah goes a long way in social media circles. Re-tweets, likes, pins, and shares do wonders for any product, especially when it comes at a high volume. The "Oprah's Favorite Things" article itself received thousands of shares/likes/tweets, while the link to the ActiFry review also received significant sharing. Searching the word "ActiFry" on Twitter or Instagram demonstrates that it is now seeing increased results and traffic everywhere. It may not be "going viral" but the authentic reviews, recommendations, shares, feedback and content does have a direct impact on purchase decisions, resulting in better ROI for clients.
According to a Vision Critical Survey, From Social To Sale, "About 40% of social media users have purchased an item after sharing or "favoriting" it on these sites."
The Importance of Team Planning. How did the 5W Consumer Group do it? Hard work and planning. Most media outlets make their holiday giftbag/product of the year decisions months in advance. Without giving away the secret sauce – locating the correct editor/writer, pitching a focused and timely angle/product, and having an in-depth understanding of what is and what isn't a fit for a publication, is how media results for the ActiFry are accomplished. For a public relations firm and professional – knowing the product, audience, and media outlet you are targeting is the key to achieving success for your client.
The Importance of ROI. So the product review was overwhelmingly positive and the article was shared across multiple social platforms – both fantastic results. But what is the true ROI for a media placement of this kind? For one thing web traffic for the brand increased – a significant outcome. When eCommerce is a big part of your business and your product is gaining serious online traction, results can be monetized. And, although we won't be able to analyze the full results the effect Oprah's mention had on ActiFry online sales until after the holiday season, thinking analytically is the best course of action when determining ROI. In the coming weeks/months, measuring the Google position for "electric fryer" searches, viewing site traffic to gauge where visitors came from, and ultimately sales, is how the true return on investment is made.
O Magazine and Oprah.com are exceptional media placements for a lot of reasons. As a PR agency, looking at the big picture (social, sales, influence) rather than just relying on the reputation of the media outlet, is the true way to analyze a placement.
How to Leverage Influencer Partnerships for Skincare Brands
Influencer partnerships have become a valuable marketing tool for brands. They help brands connect...
Learn More
Integrating TikTok Text into your Marketing
TikTok is a platform in social media marketing that provides brands with the chance to connect...
Learn More
Related Social and Digital Media