PR For Startups: Raise Money, Attract Customers and Go Global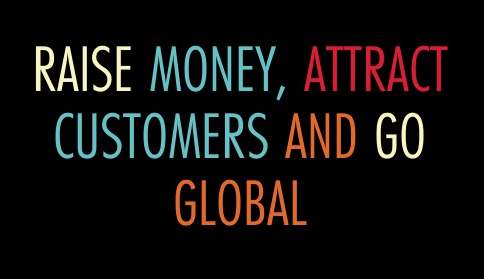 07.02.14
Thousands of Startup businesses are beginning to rise. Despite the bad economy in some states, it is not uncommon for a wide range of companies ranging from technology companies to small businesses. There is a wide array of people who are trying to get their own linear business up, and startups are coming out of nowhere. This is the perfect time to begin a new business, because several years down the road, the economy will eventually get better.
Getting A Business Up and Running
The first part of a business startup is to have a strong business plan. A business that is prepared properly and knows what their goals are, can continue to build a strong business plan. This plan is required because it is going to be used to convince business investors to spend money into the business.
You Need Investors
Investors are people who will put in the money in your business to get it up and running. You can use that money to build the business, the brand, and have it running without any upfront money from your own pocket. It is very difficult, stressful, and quite hard to take that money from your own wallet. An investor will believe in your business, and they can also help build your business by providing some guidance for the startup. Many investors have the money, and they're just looking for the next venture to put their money into.
How To Land A High Paying Investor
The key to getting a good investor to spend money into your business is to have a business plan with a good plan of action. Show the business what you are capable of doing as a business and the estimated earnings. If you can show the investor that they will earn money and you can make money for them to get back their investment, then they will put their money into your business idea.
Get More PR
If you want to go global and achieve more press, you need to get good PR. Putting some of the investors' money into hiring a good PR firm is what you need in order to grow with the business. Getting PR takes time and good money, and the press to get must be powerful and targeted.
Building a successful Startup in today's economy can allow you to start lower and not have higher costs. Real estate is much lower cost now than it was before, and there are a wide variety of businesses today that are getting off the ground with a bit of help from investors. Get in touch with some hard money lenders. Let them know of your goals. You'll eventually find a group of people or just one person to invest in your business ventures – and remember to get in touch when you're ready to make a splash with your startup!
Launch Marketing: Launch PR Strategy to Maximize your Brand Post Launch
If you are planning to launch a new product or business, you need an effective public relations...
Learn More
Branding and Public Relations: Strategy and Brand Campaigns [Guide]
While "branding" a product is all about promoting a term, symbol, or product name, public...
Learn More