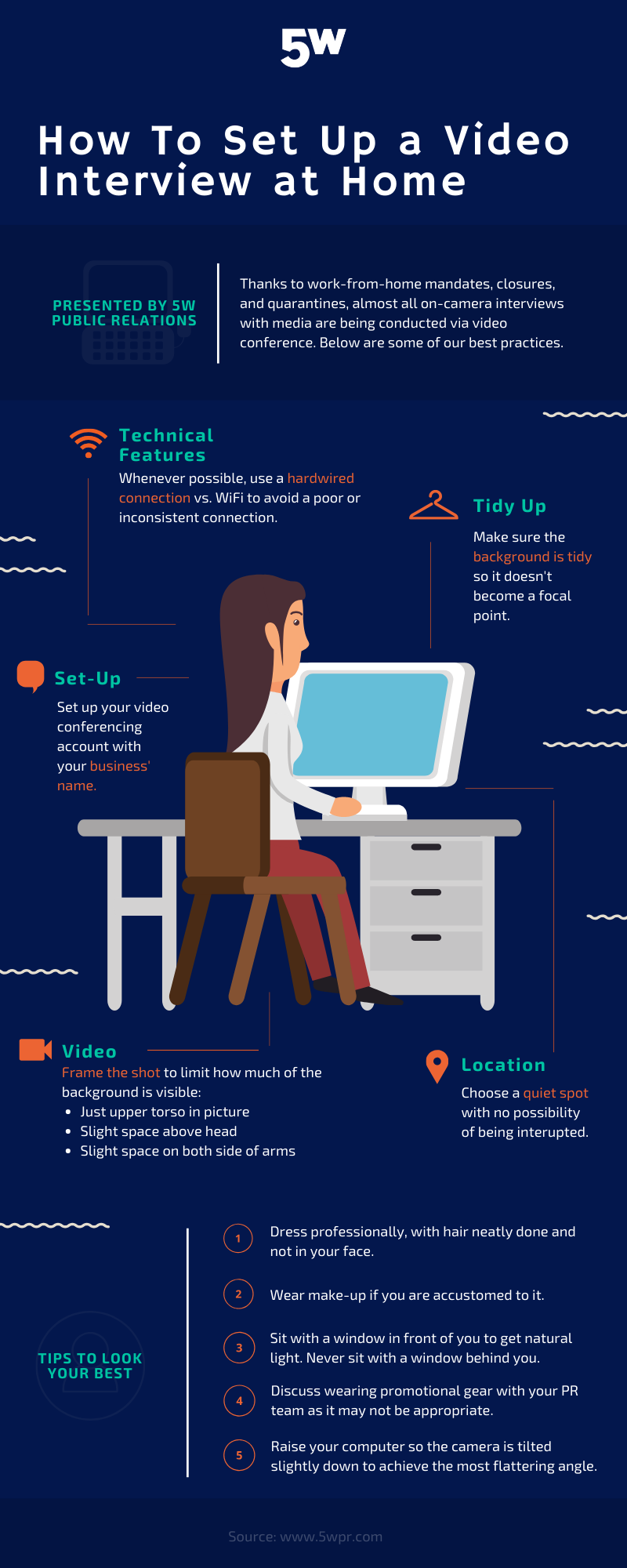 Tips to Set up a Video Interview from Home
Thanks to work-from-home mandates, closures, and quarantines, almost all on-camera interviews with media are being conducted via skype or video conference. While this may be the new norm for a while, there's the possibility that video interviews become a go-to option beyond the COVID-19 pandemic. With that in mind, 5WPR has put together some best practices:
· Set up a skype account with your business' name.
· When possible, use a hardwired connection vs. WiFi to avoid a poor or inconsistent connection and ensure the best possible quality for the interview.
· Choose a quiet space with no possibility of being interrupted by noises, family members, or pets.
· Make sure your background is tidy so it does not become a focal point. Remove anything that may be deemed inappropriate.
· Frame the shot to limit how much of the background is visible
o Just upper torso in picture
o Slight space above head
o Slight space on both side of your arms
· Close any unnecessary browsers or applications to ensure no distractions or unwanted notifications appear during the call.
· Before your interview, test your audio and video to make sure they're on and working.
o Run through a practice call with an internal co-worker who can give you feedback on your setup, appearance, and how you carry yourself. Do you need to speak up so the computer mic can better pick your voice up?
· Don't' wait until the last minute to set up your background, and computer. We suggest being prepared at least 30-minutes in advance.
Tips to Look your Best in a Video Interview
· Dress professionally, with hair neatly done and out of your face. Fixing and touching your hair will be distracting for those watching.
· Wear make-up if you are accustomed to it, but keep it natural. Since there is no harsh studio lighting which traditionally requires heavier make-up, you don't need to use as much.
· Pick a shirt or outfit that will stand-out against your backdrop.
o We suggest solid pieces rather than intricate patterns.
· Discuss wearing any promotional gear with your PR team as it may not be appropriate
· In lieu of professional lighting, sit with a window in front of you and the blinds pulled up to get the most natural light possible (never sit with a window behind you!)
· There's a reason social media influencers take their selfies with the camera slightly raised – it's the most flattering angle. Make sure to raise your computer so the camera is tilted slighting down to achieve the same effect