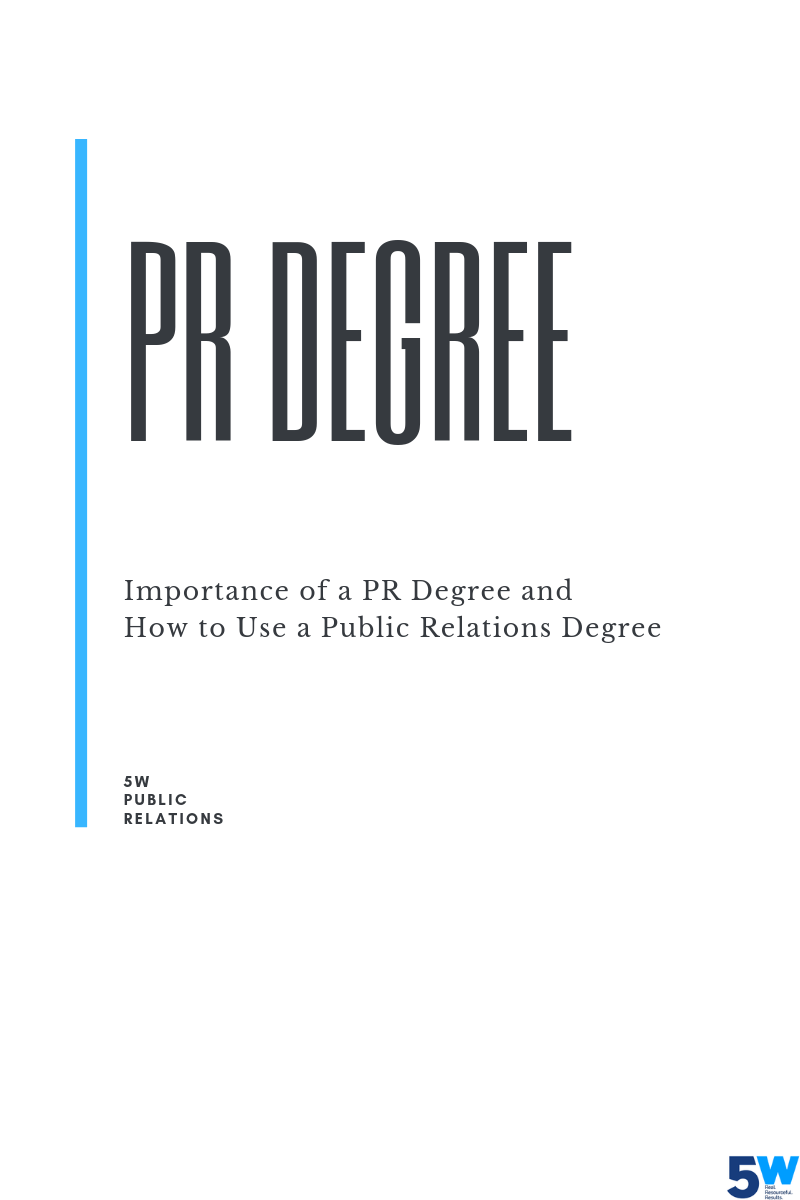 Public Relations Degree: After College Guide
In a recent article, we cited a study that estimated that public relations would grow about 6% between 2014 and 2024 and that U.S. News & World Report recently ranked public relations specialists #4 for Best Creative and Media Jobs in its 2019 ranking of best jobs.
So, what does it take to get into this exciting profession? In the past, many journalists who left traditional news media migrated into public relations. It was a natural transition since they already knew how to write appealing pieces and had established relationships with other colleagues in the media. With the popularity of social media, the demand for public relations staff is even greater and most employers seeking to fill a PR position require a bachelor's degree. Courses are available both online and on campuses throughout the U.S. and abroad.
What Will I Study?
Most of the public relations programs have similar courses. These include strategic planning and communication, new and social media, organizational planning, broadcasting, as well as media relations and writing. Some offer a plateful of other PR courses like crisis communications, event planning and management, research and analysis, ethics, public speaking, nonprofit communication, international PR, sport and entertainment PR, campaigns and consulting. The elective courses allow students to focus on particular areas of public relations. However, having a wide array of PR study offers more options in the competitive job market for new graduates.
What Will it Cost?
Obviously, in-state tuition for residents is always cheaper but the range is wide. In-state students at the University of Florida pay as little as $6,400 for the 4-year program compared to more than $50,000 at the University of Southern California. Out-of-state students shoulder higher tuitions. At Texas Tech University, it's nearly $18,0000 and as high as $35,000 at the University of Texas at Austin. USC's rates are the same for in-state and out-of-state students.
What About My Minor
Many PR students minor in related fields like marketing or advertising. It makes a lot of sense since the line between marketing and PR, in particular, has blurred over the years. Others minor in business management with an eye toward moving up in an organization or data management to bolster their analytical skills. Having minored in these other areas adds another arrow to the quiver in approaching a prospective employer who's seeking an applicant with a diversity of skills.
Other Support
Networking is always valuable, even for students. An earlier article talked about the largest professional PR organization in the country, the Public Relations Society of America (PRSA). In 1967, PRSA also founded the Public Relations Student Society of America (PRSSA) which has more than 10,000 student members in over 300 student chapters in the U.S. and several foreign countries.
Not only do student members benefit from additional educational sessions offered through PRSSA, but the organization also posts available PR internships and jobs as well as providing venues and opportunities to meet PR professionals.
What Can I Do With a Public Relations Degree?
Public relations is an important tool for every business in today's fast-paced world. Where we once relied on word-of-mouth for leads on where to shop or get the best things, now social media often drives us to these locations.
Holding a degree in public relations has the potential of opening numerous doors. Let's check some out.
Utility Player
In the world of baseball, utility players are highly valued because of their skills and adaptability at different positions. If you took other PR-related courses to supplement your degree, you could fit that description. Having a wide array of PR-related skills and education could make you an ideal fit at nearly any small business. They don't have the budget or capacity to fill different positions for various duties ranging from social media to press releases to data analytics but if you've taken all these courses, you have a good chance of being hired.
Most small businesses could use a PR person who brings a well-rounded arsenal of skills and education into the door. That ability to size up what needs to be done, draft a strategic plan and carry it out is priceless. The U.S. Census Bureau estimates there are nearly 6 million small businesses in the U.S. It also says they employ nearly 6 million people but that 3.6 million have less than 5 employees.
Don't forget the other large potential job market for utility players: the nonprofit sector. More than 1.5 million charities, foundations, and organizations with nonprofit status are currently registered in the country. Although it's not clear how many nonprofits have less than 5 employees, what is known is that salaries are generally lower there than in the for-profit sector. This is true, particularly in small nonprofits. Many are young start-ups where the need is great but the budget limited. A diverse array of courses in public relations will be relished here.
Large companies offer a different picture in terms of opportunity. The larger the organization, the more likely it is to have different specialists assigned to different tasks.
It wouldn't be unusual to have one person managing social media, another administering the website, and a team of other professionals charged with different responsibilities. Unless you had the opportunity to intern in such an organization and demonstrate your potential, it's likely that the large company will require several years of proven experience before considering you.
Earn Your Spurs
This old cowboy adage is generally applicable for anyone graduating from college with a degree in public relations. The good news is that the demand for PR professionals like you is high and the time is now.
Some PR folks who work for companies also volunteer to do similar work at a small, local nonprofit. Not only is it good community service and a way to hone your PR skills and experiment a bit, but it also gives you an opportunity to see if that sector may be of interest to you in the future.
In the meantime, polish up your resume and be sure to list all the PR courses you took along with any internships and volunteer experience, where applicable.