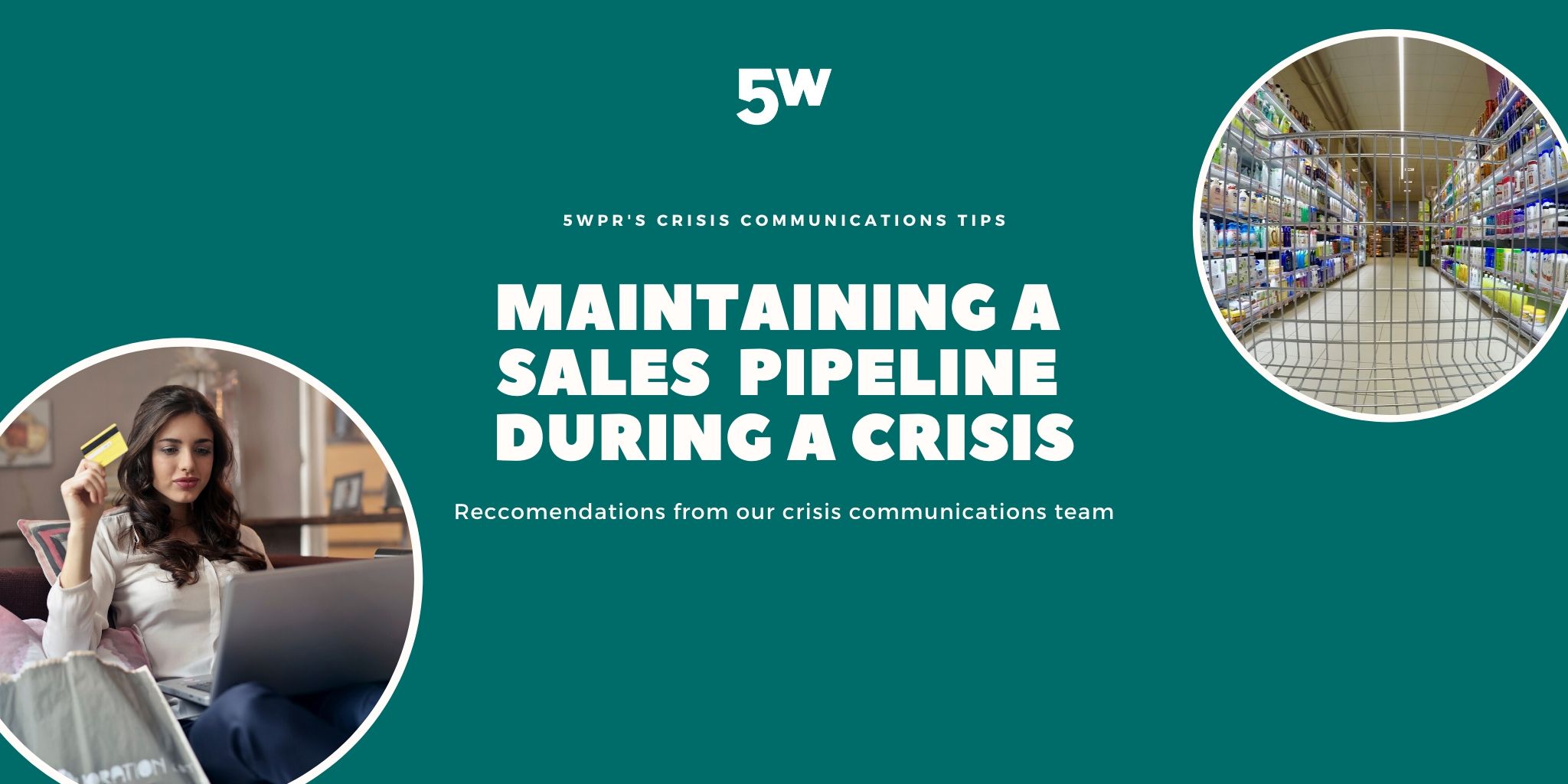 Maintaining your Sales Pipeline during a Crisis
The reality of coronavirus has left many wondering what the impact will be on different industries. As we battle against the changes COVID-19 has imparted on business practices, it's more important than ever to put an emphasis on sales. While there are bound to be some financial losses, acting now may make all the difference in your company's ability to endure. We've compiled some considerations for maintaining sales during the crisis.
Evaluate Current Sales Pipeline
Take stock of current clients, deals in progress, and your approach to new business outreach. If you're a consumer brand, take stock of your income, and supply chain to note any current or potential disruptions. Know that at this time, there's potential to lose a client or two, have a deal fall through, see a decline in sales, or realize your new business efforts are no longer appropriate. If you don't have a plan in place to deal with any of the mentioned, now is the time to create one. Pay attention to the long term goals of the sales team, are they still realistic or do they have to be adjusted? Have you had to close your stores? Is your website equipped to handle the influx of online traffic as a result?
Target Opportunities
New opportunities can emerge daily. Identify how your product or service can support customers during this time, and ask yourself how you can adjust your messaging to relay this opportunity to buyers. Now is not only the time to be transparent, but also creative while interacting with customers. This will support your efforts to gain new business and maintain relationships with current clients. Newsletters and social media offer a great opportunity to let consumers know that you're still open for business, where purchases can be made, and how long before a product or service can be expected.
Capitalize on Earned Media
Public relations helps bring awareness and build interest in your product or brand through earned media and news placements. As consumers look for a solution or specific products, having consistent and positive media placements will strengthen your brand's reputation in the eyes of this potential customer and assist with getting it in front of more eyeballs.
Shift employee responsibilities to better support sales efforts
Every action being taken within the company should support the further growth and sale of products and services. As a sales team, what is your goal moving forward? Are you looking to maintain the influx of new business and transactions, or to double your standard monthly expectations. Be communicative with internal employees in every department on how they can help accomplish these goals.